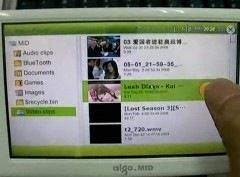 Back in April, I published my thoughts on how MIDs could raise the bar for high-end PMPs. I wrote the article after I saw some interesting notes on the video hardware that was going to be included in Poulsbo (now called the System Controller Hub, the chipset that accompanies Z-series Atom CPUs.) When I got the Kohjinsha SC3 a few weeks ago it was the first chance I'd had to test a Menlow based device (Atom Z-series + SCH) so one of the first things I did was to download a high-end WMV file and play it in media player. I also downloaded Quicktime and the Klite Pack to get some H.264 support. What I saw was less than impressive.
At the same time, Jenn at Pocketables.net was doing similar tests with her SC3 and to cut a long story short, between us and the feedback of forum members and readers, we've ended up in a position where we've only found one commercial software package that will enable just one of the built-in hardware decoding features. H.264 [See Jenns article about 1080p on The Willcom D4.] On one hand its a poor result and a major disappointment. There's no single player available that can support playback of all HQ content and if your content is wrapped up in DRM (iTunes films for example) there's no support at all. It all sounds like quite a sad story. On the other hand the H.264 part of the story is good (no, excellent – 15mbps H.264 anyone?) and it looks like there's more to come if Poulsbo can be unlocked further with the right software.  (article continues…)
Divx support is already good without any hardware support, MPEG-2 too so in terms of mainstream codecs, there's only WMV to 'unlock' iTunes DRM's H.264 films won't be supported but maybe Intel can convince Apple to update quicktime to add the necessary hardware interface
Hardware accelerated YouTube, but not FLV.
Unfortunately, FLV is the most common Internet streaming format with YouTube obviously leading the way. Nearly all of the video sharing sites use FLV and the player requires a huge amount of CPU power to play it back. It's always been an issues for UMPCs. Poulsbo can't help either because it doesn't offer any FLV acceleration. Fortunately, YouTube offers H.264-encoded content now so if Intel can convince Adobe to add the hardware support for Poulsbo in Flash 9, online video in YouTube is going to look a lot smoother when the mp4 versions are brought forward. There is a way to do it today if you have Cyberlink PowerDVD. You can use tricks like this one to download the hidden MP4 YouTube file to the hard disk and play it back in the Cyberlink player to get hardware support. I've just tested it with JKK's 901 review and it works perfectly in full screen using about 20% of the CPU! Oh, and about Cyberlink. V8 is expensive but V7 isn't. I've ordered V7 to test it out and if it works, the OEM version can be had for under $10. If anyone has already tested this, let me know. Also, most of the popular videocasts are now available in H.264 or iPod format and this can be accelerated. In fact, all of the Videocasts in iTunes are likely to be useable under Cyberlink PowerDVD. Lets hope that H.264 becomes more popular soon.
Moblin is probably a better option.
I'm sure many of us are going to be happy to have the flexibility of Windows and will happily put up with having to do a small amount of search-and-tweak and but its really not the way it should be for what is essentially an entertainment experience. For the average consumer, Video on Windows is a pain in the backside, hardware decoding or not so here's where the interesting bit starts. Linux based MIDs. Specifically, Linux builds based on Intel's Moblin core.
Its not difficult to see why this is going  to be a better solution. Only one CPU type, one chipset type and a fairly restricted range of hardware will go together to Centrino Atom MID devices. Intel will be building their own software core which means they can do everything they need to do with optimised drivers and meaning more time can be spent on performance rather than supporting a million hardware permutations. As for codecs, it looks like Real Networks will step in to offer a codec pack that will cover nearly all formats so what you end up with is a nice tight hardware, software and codec layer. Perfect!
But will it be good enough for the consumer? There's another layer to be considered. Will the player look good? Will the features behind the player such as library management, tagging, artwork, DRM, podcatching and other elements work? It remains to be seen but we've already got proof that the video decoding layer is working. UMPCFever are one of the first to get their hands on a production MID and the results are looking great. Apart from WMV HD which is hardly going to be the choice of the consumer, everything is working well. If software developers see the potential then I'm sure the stylish, feature filled players are going to follow very soon. If not, H.264 streaming from good user interfaces on the Internet are going to fill the gap very quickly.
I don't see MIDs selling like smartphones but I do see them taking over the high-end of the PMP market, creating a new market for people running any part of their business on the Internet and becoming the must-have device for a lot of media and Internet consumers. That's a big market!