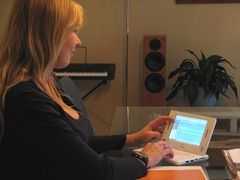 I received an S7 from Viliv a few weeks ago [unboxing and live session] and because of some commitments (and a white leather case that I wasn't too keen on taking to the coffee shop!) I gave it to my Wife to test. To my surprise, she's absolutely loving it and hasn't used her laptop since. It looks like the S7 could be one for the ladies!
I've asked her to put some words together after her first two weeks and she's just sent me this. Don't forget, English is her 2nd language!
More Viliv S7 information, images and links on the S7 information page.
I am using this little white super-mini-pc since about 2 weeks and  Loving it!

It's light, small but not too small when it comes to keyboard and screen.
The white colour works out well, because us ladies get oily and sticky hands from kids and hand-lotion and things, so the white doesn't show the smudges.

What I like the most is:
4 seconds to be switched on (I always leave it on standby when I am done and close it afterwards), another 20 seconds to be online/wireless and another 2 seconds to get to emails. Great!

Battery-wise its good for me, I use it maybe 30 minutes at a time and that 3-4 times a day so far, and: since those 2 weeks have charged it once!!! [That's two full charges over the last 2 weeks – Chippy]

The handling [performance] is super: When I work with the internet its in my both hands or on desk and I use touchscreen and mouse and keyboard alternating and simultaneously: yes, women need to do things as they want at that time, so whatever I feel like I can switch to and do it. For example: scrolling with touch, choosing things in a webpage with mouse, then tip on mousepad or touch-whatever I am in the mood for-smile.

All in all: I have put my old, big laptop under the bed and found a better alternative. I am pleased.
OK. It's early days and she might still be in the honeymoon period but there's one thing I've noticed – I haven't had to do any home PC support for the last 3 weeks. The S7 is turning out to be a reliable, quick and very handy replacement for my wife's laptop.
I'll be stealing the S7 back for a a full review but I feel confident that there aren't going to be any show-stoppers on the S7. It's got a great quality keyboard for the size, huge battery life, runs OpenOffice with no problems at all and seems to be reliable over multiple standby/resume/wifi sessions – a good sign.
Thanks Mrs Chippy!