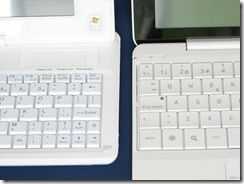 In terms of mobile productivity, I'm sorry to have to report that the Compaq Airlife 100 has a lot of holes. It does, however, prove that there's a lot of potential in the 'smart' platforms. Long battery life (due to extremely low idle drain) and always-on/connected are features that, once you've experienced them, are hard to let go of. Android has potential too but there are 2 key things that need to be done. 1) The browser needs to be improved. The Airlife 100 is not up to doing any web-application work. 2) The marketplace needs to be put into place so that developers have a channel for productive and large-screen apps.  Once these two issues are fixed though, it's only a matter of time before productive mobile computing moves to 'smart' platforms with advanced mobile operating systems.
Do you agree?
As a consumer device, the Airlife is also missing a few features. Better media support and management is badly needed for a start so with the costs running close to that of the iPad, I suspect the latter would be a better choice.
Great progress by HP and signs of real promise mean that smart books have a future for mobile computing / mobile productivity but it could be 2011 before we se a real netbook competitor.
I've reviewed the Airlife and published the article over at Carrypad.com