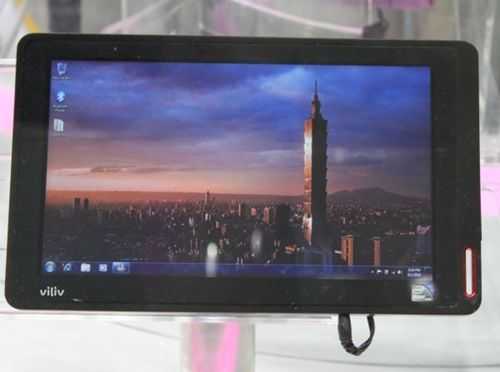 I just put an article up on UMPCPortal's sister site, Carrypad, about the Viliv X10 — a 10" Slate running Android. Interestingly, the source article from LaptopMag mentions that they've spotted the same X10 device running Windows 7 at Microsoft's booth:
There's also a Windows 7 version of the Viliv X10. Though Viliv was not showing the Windows 7 version of the X10 in their suite, we spied a demo unit working under glass at Microsoft's booth and took a few pictures.
The Atom sticker can clearly be seen on the device (as well as the Windows 7 task bar). The unit looks identical to the Android X10 that we covered at Carrypad. This is somewhat confusing, because the Android version is surely running ARM architecture. Perhaps the Windows 7 X10 under glass is simply a mockup by Viliv? I guess time will tell, and if Chippy has anything to do with it, it'll likely be sooner rather than later.