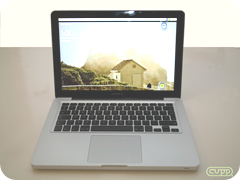 As time goes on, the mobile internet, with it's apps, location, always-on, customisations and sensors, becomes more its own unique Internet rather than just a subset of the traditional desktop Internet and it becomes more and more important to make sure you carry two devices in order to have the full internet experience. Most of us take two or more devices with us when we travel, especially for business as a result of this split.
There have been devices in the past that have tried to combine the two and one notable one from the mobile computing world was the HTC Shift. Its Windows Vista / Windows Mobile combination was attractive to many round these parts but the execution wasn't quite what people were expecting. A cut-down Windows Mobile experience with very little peripheral sharing and an extremely short battery life disappointed.
Cupp Computing have been working in stealth mode on a highly integrated solution to this problem and we were lucky enough to be one of the first to take a look at it at Mobile World Congress last week.
The core of Cupp Computings value is based on the inability for a computing device to deliver high-performance computing AND low-power computing with one type of architecture. RISC architectures can deliver extremely low 'always-on' power envelopes but for complex productivity, can't deliver the performance required. The RISC-based architectures don't really support the complex productivity apps either.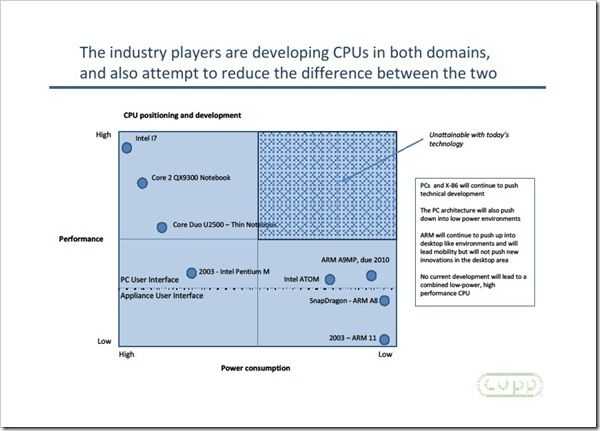 Cupp Computing are claiming that the performance gap between RISC (mainly ARM) and X86 will remain over time and that there is a requirement for both low-(energy) power and high-(processing) power in the same chassis. We couldn't agree more with that! The wider the 'dynamic range' of the device, the better
Cupp Computing have developed a solution that, rather than being a glorified KWM switch, sits at the heart of the PC, provides the low-power processor, integrates peripherals in such a way that more devices can be supported and allows more device states can be supported than other methods.
At this point, it's probably easier to show you the demo…
I've been giving this demo and the accompanying documentation I have here a lot of thought over the last week and I have to say I'm not as excited about it now as when I first saw it. My first thought was 'mobility' but that's not really the core offering here. I do, however, see a window or opportunity for it in the high-end of even mid-end laptop segment if the cost of the solution, including the increased time to market, isn't too big.
The first thing that needs to be noted is that this isn't magically going to make laptops smaller or more mobile. The device will still have to be designed around a netbook-style chipset arrangement and a relatively high TDP figure, just in case the user chooses to use it that way. There may be some down-clocking solutions that can enable ultra-mobility but the requirements for a fan and for a relatively large motherboard could limit mobility scenarios.
I've also got a list of issues and questions.
Issue today: You still have to run two operating systems and platforms. In some cases, power drain would be more rather than less.
Issue in the future: The processing power gap between RISC and X86 architectures may remain but as we move forward, the percentage of difference will drop when considered in the normal range of user requirements. The performance difference becomes less noticeable.
Issue in the future: As time goes on, X86 platforms are widening their range of mobile and high-processing power limits with new (low-end) architectures from Intel now able to idle into the same space as the RISC world. Cupp are challenging this by saying that the gap will never close. I refer to my above comment where the gap may remain but it will tend to 'less noticeable'.

With this solution, you lock both your mobile and laptop computing solutions into the same cadence. With mobile devices tending towards a 12 month churn, that might not fit with a high-end laptop purchase.

After reviewing more of the Cupp documentation, I see that Cupp are proposing a very low cost solution that isn't intended to replace any existing mobile computing devices such as tablets or smartphones.
Issue today: Technology and software is advancing even faster than people can buy new devices. Will the CISS (Cupp Integrated Southbridge Solution) add too much development time for the manufacturer and mean it launching behind current tech hardware and software?
Question / opportunity: With operating systems becoming processor agnostic (E.g. Windows, Ubuntu, MeeGo, Android) and X86 processors reaching into low-power territory, is virtualisation a more flexible solution? (This solution could work in the future when both desktop and mobile operating systems allow X86 architectures to idle down into RISC territory.) On the other hand, there maybe an advantage here. Imagine Ubuntu or MeeGo running on both ARM and X86 with synchronised switching between the two.
At the end of my in-head discussions, I've concluded that this is a solution for some fairly niche use cases. The target audience should be users that are not concerned with increasing mobility but want access to the features of a mobile operating system and desktop operating system in one chassis. Currently there isn't an operating system that offers that so until that happens, Cupp Computing have a good solution. The other scenario is for people that want to add an always-on component to their laptop. Assuming the X86 part of a laptop is in standby, when the lid is opened, the user is presented with the always on operating system that can offer them a quality PIM and Web experience with location and sharing at its core. If the user chooses to go 'desktop mode' the system in standby can be booted in the background. Always-on also adds the continuous location, tracking and polling features of a mobile operating system that aren't present in the desktop operating system.
Finally, there's a group of users that use big keyboards and big screens but don't need a complex desktop operating system taking power where not needed. This is an interesting scenario because there could be cases when the advantage is mininal. With the large screen and devices taking a lot of power regardless of the operating system, the advantage may not be that great. In high-power laptops however, there could be some significant savings to be made.
A note on security at this point: The Cupp hardware includes a second layer of hardware firewalling. We're not quite sure how this is managed yet but the thought right now is that when two firewalls of the same configuration are put in series it only increases the number of failure points, not the security, although yes, there is an argument that says two firewalls of different internal build (but with the same rule-set) can decrease the chance of the firewall being hacked.
If Cupp Computing can get this to market quickly, there's a definite advantage for end users of medium to high-end computers. None of the issues I mentioned above speak of current technology and the only possible issue is the additional development time needed to integrated the hardware into production and get two operating systems running (We assume Cupp Computing will be responsible for delivering the working ARM-based operating system.) Power-gating and improved thermal controls will challenge this solution in the future but only if well controlled operating systems exist. Desktop operating systems are, in general, not well optimised and do not enforce the control needed for power efficiency.
We don't see this solution hitting the mobile, low-cost or even mid-range laptop/desktop computing market but there's definitely an opportunity window of 3 years or more in the high-end segment and we'll be looking forward to hearing more about progress and, hopefully soon, testing a device. Cupp Computing have indicated a roadmap with products in Q2 2011 so maybe their timing is right. We welcome discussion below.