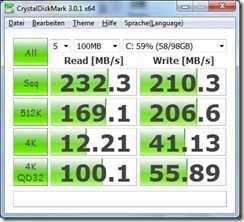 Looking for an upgrade to a netbook?
I know that 1.3KG can feel different in different form factors but the thin and light laptops shouldn't be ignored if you're thinking about ultra mobility. For example, if you need a device to operate for 7-8 hours while typing offline but want to turn up the power dial to 11 now and then for a bit of 720p editing and rendering or gaming, the Samsung 900X3A is one to take a look at. It's a smart device in its own right but it also gives us a good idea how Ultrabooks will perform when they arrive in the next few months.
In the full Samsung 900X3A review I've just published over at Ultrabooknews you'll see some impressive, netbook-like battery life possibilities, gaming and video editing and some thoughts about moving up from the netbook category. For example:
Video editing and processing
Fine-grain thermal management that allows 'turbo' scenarios
A wide-dynamic range of operating modes. From netbook to desktop
Faster busses, faster disk, faster startup
Video streaming and video calling in high quality
Fast batch processing of images
A wide range of reliable video playback capability
Fast web rendering
Desktop-style multitasking
Ultrabooks are a category I'm personally very interested in as one that fits well with my three device (smartphone, pad, laptop) strategy. I'll be writing up a new article about ultra-mobile video editing using the Samsung Series 9 and you'll see it in the next few days here at UMPCPortal. Hint: 5x high-end netbook rendering speeds. 3X Fusion E.350 rendering speeds for 720p content and output.