Back during CES, Sony was showing off a hybrid tablet with Windows 8. This was a sliding design that could function as a tablet with the screen down, or the screen could slide up screen up to reveal a full QWERTY keyboard.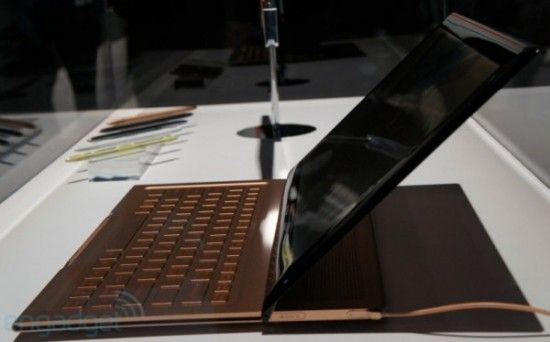 Image credit: Engadget
We've seen a similar approach from Samsung, but despite an official press release about the product, it never made it to market (perhaps they were waiting for Windows 8?). Asus launched the Eee Pad Slider last year using the same concept but with the Android and ARM platform instead of Windows. The Asus Slider was highly anticipated, but didn't seem to make a major splash within the Android market.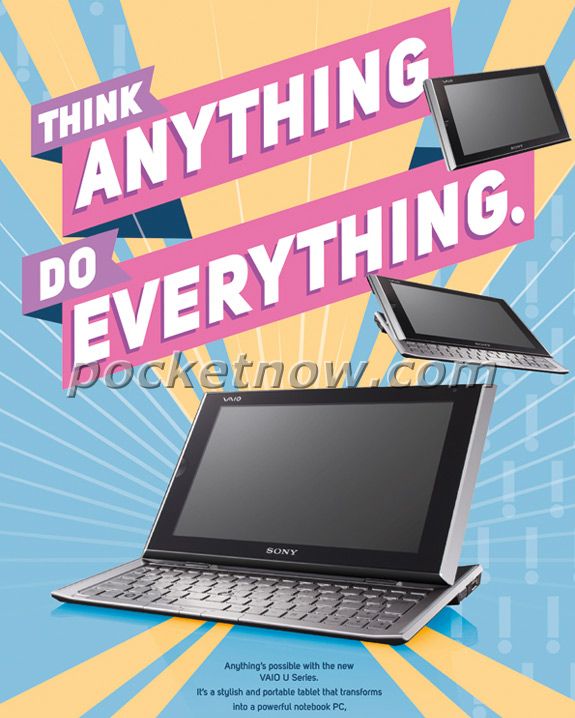 Sony's concept hybrid device was decidedly a prototype as shown off at CES, but a purportedly leaked advertisement,  spotted by Pocket Now, shows a very similar device that looks much closer to a retail launch. The ad also places the hybrid tablet under the U-series, which Sony has always reserved for it's most portable computers. Cousin of the U-series is the UX-series under which Sony offered it venerable UX UMPC.
In the ad you can see a USB port on the right side of the device, a front facing camera at the top right of the bezel, a home button of sorts on the left side of the bezel, mouse buttons in front of the keyboard (with the middle key likely for scrolling), and a nub-mouse in the center of the keyboard.
Prior to Windows 8 I would have been less enthusiastic about a hybrid device from Sony, but now that Windows 8 has a chance of providing a good tablet experience, the hybrid design is much more appealing. Hopefully we'll hear more about this device as Windows 8 gets closer to retail launch.