The Eking S515 has been with me for about a week now. It was sent over by Mobilx who wanted some feedback on the product. Fine, we said. As long as we can make all feedback public, we're happy to help. Here's what we've got so far.
Specifications, links, videos, gallery available in the Eking S515 information page.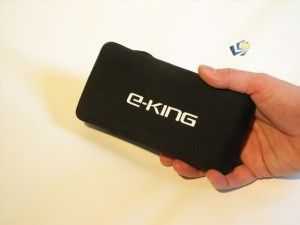 Introduction.
The EkS515 reminds us of the Wibrain i1 we had about a year ago. [Article] No, we don't mean to say that it's an ugly brickling but in terms of usability and ergonomics for productive UMPCs, it's up there with the best. The Eking S515 even looks good.
The trick (as we've found with multiple Windows-based devices) is to get some form of mouse control under the thumb. The U820, Everun, OQO 02, M704, HTC Shift (information) and even the original Wibrain all had a mouse pad of some sort and it makes a huge difference. Fine control of the mouse for selecting icons, window elements and links becomes much easier. Double-tap to click helps too and if you've got the mouse buttons available on the opposite side, it helps with right-click operations.
In terms of getting things done, the S515 is one of the best slider UMPC designs we've tested and if you look at any other slider device between 5 and 7" out there you'll find that it does pretty well on battery life / weight ratio too. 2.5hrs for 450gm is slightly less than the Compal/Agio slider MID offers but remember that this is a 1.2Ghz device with hyperthreading. Noticeably more powerful than the Compal slider.
Build quality is reasonable although we would have problems recommending this for industrial use as screen hinges are always going to be a weak point. Plastics are good and we like the rubberised finish that increases friction on the keys and underside of the device. The Mouse pad area on the right of the screen frame is a shiny low-friction finish.
When closed and held in the hand, the device feels relatively dense although when used with two hands in typical thumb-typing mode, 450gms is an easy weight to use for 30-60 minutes at a time. Strangely, the device feels and looks smaller when in the neoprene case. Magic!
In terms of design then, we're happy with the Eking. It feels good, works well and looks OK. This isn't eye candy but it's a very good productivity design.
Performance.
The Eking S515 uses the new 1.2Ghz hyperthreading Z515 Atom CPU which produces some really good results. Boot-up is relatively quick and navigating around the OS is easy with the mouse system outlined above. Web-sites load quickly and  standard def YouTube works fluidly in both embedded and full-screen mode but we've got three big problems to consider.
First, there's the 800×480 screen. While WVGA on an 4.8" screen isn't a problem in itself, implementing Microsoft Windows on that resolution is. A default installation with a default Firefox set-up will net you about 50% of the area for web browsing and many programs won't even install if they check for a minimum resolution. Some notification windows won't even show the 'accept' 'cancel' buttons causing a huge roadblock. Tweetdeck is one of those apps. With some tweaking, you can work round these issues. (Here's one nice tweak that removes annoying notification balloons.)
The second issue is more significant. Slow SSD write speeds (on small block sizes.) This might sound a bit technical so I'll put it another way. Constant short-term freezes or 'stuttering.'
The effect was seen on a previous UMPC, the Raon Digital Everun Note, and I've heard of the same problem on some netbooks too. The problem occurs when the SSD and SSD-controller combination can't write multiple small chunks to memory quickly enough. Buffers fill and any program wanting to read/write from the disk simply has to wait. It's not a problem you see on hard disks and fast SSD's but when you experience it, you'll know about it. It reduces performance to frustratingly low levels and limits multi-tasking capabilities drastically.  On the Everun Note it was possible to swap out the SSD but on the Eking there's no such option.
We've been testing an application that might help with the slow flash write problem. FlashFire is a program that promises to speed up low-end SSDs. After installing we have seen a reduction in freezing and can measure improvement using CrystalDiskMark. Longer term testing is needed on this but we're hoping it reduces the stutter and freezing issues to an acceptable levels. Buffering of data can have disadvantages though so use this at your own risk.
The third major issue to report on is battery life. The slider form-factor is a notoriously difficult design to use if you want to keep battery capacity high so as with all sliders out there, you can't expect to have a huge battery pack included. Take the original Raon Digital Everun for example. It's the same size as the Eking S515 and because it doesn't have a slider keyboard, it has a battery that is over twice the size of the battery in the Eking. The Eking has a 13wh battery and users will struggle to manage with 2.5hrs connected battery life. The device has class-leading efficiency and to put that into perspective, it could run for well over 10 hours if it was connected to a 6-cell battery pack from a netbook but carrying 200gm of battery pack is not the idea here. We just hope that spare batteries are cheap and that the docking station also includes a battery charger. [Note: In a short, uncontrolled standby battery drain test we saw the battery drop by 1% every 5 minutes indicating that even standby mode will leave you with an empty battery if you don't turn it fully off before going to bed.]
Finally on the list of minus-points is the fan. We've seen a few Intel Menlow-based devices without fans this year and we're starting to see high-power ARM solutions that are also fanless so when the fan starts up on the EKing S515 it's a little surprising. The noise isn't too bad and the exhaust is tucked nicely away at the rear/top of the device.
Other notes
Keyboard – Focused on thumb typing. The membrane-layer keyboard is not for touch typing but works extremely well for thumb typing. Well-spaced keys with a thumb-focused width work well. We found the space key had a hard spot on the right (exactly where we want to use it) but apart from that the keyboard is good. Missing F11 key (fullscreen) and right Shift key are somewhat annoying but +/- keys are well placed together (for zoom in/out on Firefox) A dedicated Internet Explorer startup button went unused. We hope this is programmable but can't find the information in the Chinese-language manual.
BT/Wifi – The 3DSP BT/Wifi solution was fast to connect and had very good Wifi reception. We haven't tested it for efficiency but it's a USB-connected module so we're not expecting it to be the most efficient implementation.
Audio speaker – Mono. Loud. Acceptable. Positioned (as is the mic) for phone capability. (If that's your bag!)
3G module – We installed a Huawei 550 3G (UMTS) card and were able to get up and running with no problems. Our test device had pre-installed antennas.
Camera – The Camera is only VGA resolution but to be honest, higher resolutions rarely result in better quality for video calling. I had some fun today and recorded this video demo. As you can see, Skype video works.
Live Skype Video Test. This is not how you should use it!
Notes. (Continued)
Docking station port untested.
USB client capability. Untested.
Battery life: About 2.5hrs Wifi on. 50% backlight. No remaining battery life indicator in Windows 7 or XP.
HID drivers for Tablet PC software. Untested
Stylus. Tiny. Akward.
Neoprene case. Tight but good.
Screen. Matt. Good brightness.
Touch. Light-touch.
4-hour standy test saw battery drain drop by 1% every 5 minutes. (50% in 4 hours) which is very poor.
That's about all we have now. Our overall opinion so far is that while the design is good and productive, there are too many issues for the pro-mobile user to have to deal with and work-round on this device. For the hobbyist and researcher though, the EKing S515 offers a lot of interesting and productive features at an interesting price point.