This question just cam up on Twitter and I think I know where Daniel Blake, the CEO of TinyChat, a web-based Webcam-enabled chat system is going with this!
It's a subject very close to my heart and so I've decided to answer it in more than 140 characters.
The requirements are:
Small device
Webcam
Mic
Wifi
Flash 10
First of all, let me highlight my recent article about the Mobile reporting solution version 6. It's a 3G-enabled solution with an external cam but the core, the Viliv X70 UMPC, can actually run with its own webcam. The X70 is probably the best long-battery-life mobile (and 3G capable) solution out there. But that's no what Daniel was asking. He just wanted something small with Wifi.
In my experience, the quality of the webcam depends on the software drivers behind it. For example, the very small, very light Kohjinsha SK3 has an awesome 3mp, auto-focus webcam on a swivel screen but the video drivers are so damn heavyweight that the results are just not up to scratch. On the other hand, the lower quality Clevo TN70M with the 800×480 screen is a much better solution. I've done WiFi-based Skype on this for long periods and the quality is excellent. The best thing is that it's available without an OS so you can drop Ubuntu on it and have a sub-1KG portable web chat system for under 400 Euros.
Looking at the product database (and sorting by weight) I see some other solutions too. The smallest and lightest solution there is the UMID M1 at 315gm / 11oz.  We've done a full review of this one and here's what I said about the cam.
The quality of the webcam is good for such a small device. Recording using Movie maker at a relatively high 1mbps bit-rate resulted in better-than-expected results. It also works with Skype although you will be hitting CPU limits that will keep the frame rate down. Streaming with Ustream again returned better than expected results.  Not totally smooth but certainly acceptable for a quick broadcast.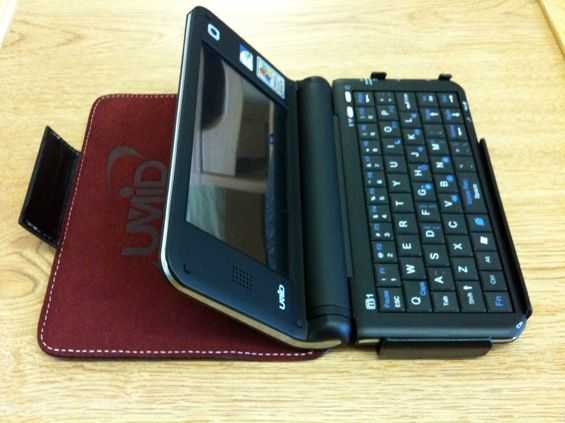 Remember it's running the same CPU as the Clevo and X70 I just mentioned and it's also available in a very nice black finish too. Ben is testing that one right now.
In summary then. Here are the top three choices.
Devices based on the Intel Atom 1.3 or 1.6Ghz version e.g. the T91, the U820 (available with a 2.0Ghz Atom!) and some of the lighter netbooks, are all worth looking at. Also keep an eye on the Archos 9.  If its small and light that you want though, the UMID is unbeatable for the occasional web-cam chat session.
Let us know if you do any tests Daniel.