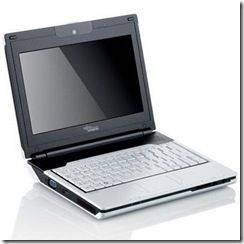 Yes, a strange statement to make but its exactly what I though if when I saw it. A design daring to be different but not really having any classic, timeless lines. The Amilo looks cool on first glance but I bet it looks, er, less cool in 12 months!
Fashion aside though, the specs aren't anything to moan about, apart from the slow-looking 60GB HDD perhaps. The Array mic will help with Skype, the ExpressCard slot will help with multi-device 3G cards and I like the fact that its got Bluetooth. FSC is a German partnership between Fujitsu and Siemens so I'm not sure how this product will translate into other countries [Update – The news item gives us a clue. It could be the M1010] but I'm guessing that if Fujitsu have the rights, you'll simply see it under a different Fujitsu model name in other countries.
Sascha from Eee PC News was at the launch today and has a few more pics where you can see the exchangeable cover 'feature.'
Full specs are in the database now.
8.9" WSVGA Display (1024 x 600)
Intel® Atomâ"¢ Processor N270 (1,6 GHz)
1024 MB DDR2 667 MHz RAM
60/80 GB HDD (3600 rpm / 4200 rpm)
LAN, WLAN 802.11 b/g, Bluetooth
ExpressCard slot
USB 2.0
VGA out
Webcam 1,3 Megapixel
Digital Array Microphone
Microsoft® Windows® XP Home Edition
233 x 29 / 36 x 175 mm, 1 kg
Via JKKMobile