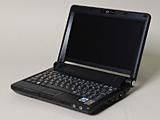 Jkk has spotted a refresh of the original Everex Cloudbook. If you will recall, the Cloudbook was one of the early netbooks and competitors to the Eee PCs. It had a low price point and ran a Linux based operating system called gOS.
The new model looks similar to the original, and a few changes make the new Cloudbook the same old netbook that seems to get announced every day. The 7" screen has been bumped up to 8.9, and accordingly the resolution has been raised from 800×480 to 1024×600. The screen doesn't have nearly as much of a bezel which is always welcomed. It still maintains the original Cloudbook look, especially in the hinge and speakers. The tiny trackpad has been increased slightly in size and the mouse buttons have been placed in a more common position (below the trackpad) as opposed to the original which had left and right mouse buttons on the left and right of the pad. It is still running a VIA C7 CPU, and I'm sure you can probably guess the rest of the specs: 512MB/1GB/2GB RAM options, VGA output, 2 USB ports, Wi-Fi/Bluetooth, etcetera, you know, the usual.
Probably the biggest difference between the original Cloudbook and this refresh is that the new one will be scrapping the gOS for Windows XP Home. Probably a good move  on Everex's part as some people cited the not-so-user-friendly gOS as one of the Cloudbook's biggest problems.
Translated Source: [PC Watch]