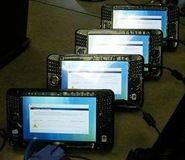 Jkk has managed to find a short story on the 'Nebraska Library Commission Blog' that mentions a list of libraries in the state that are getting hardware courtesy of the Gates Foundation:
The Nebraska Library Commission is proud to announce that the following 48 Nebraska public libraries have been awarded WiFi Connectivity Grants, funded by the Bill & Melinda Gates Foundation. Each library will be receiving a Linksys WiFi Router and a Dell laptop or Samsung Q1 Ultra UMPC.
Interesting to say the least. There isn't much detail on what the Q1Us will be used for at this point, or specifically which model they received, but I would imagine they would be a good tool for taking to the shelf and referencing books without having to return to a stationary computer to look up Dewey Decimal information. A few pictures of the Q1Us and some other donated hardware can be found at this flikr page.