There is no strict definition of these terms and you will find them used for all three of those product categories. Even Smartphones are starting to move into the mobile Internet device territory now as technology and software advances and the term 'ultra mobile PC (Ultra Mobile Personal Computer) is often used as a synonym for the pro-mobile and Origami devices. The following diagram shows the common terms in use in four product categories.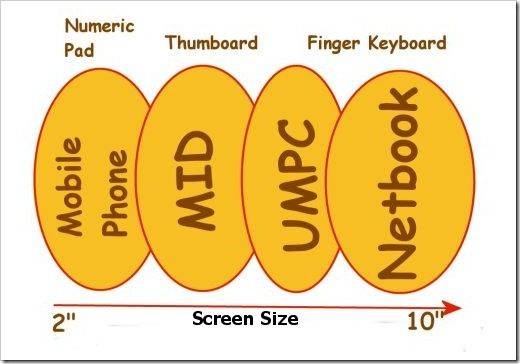 Common categories for various mobile computing devices.
Here's our definition of an Ultra Mobile Computer from 2006.
A highly portable hand-held computing device with 4-10″ screen, wired and wireless connectivity that is able to load and run common Internet, office, media and information applications operated through a graphical user interface.
As you can see, the three common categories of MID, pro-mobile/ultra mobile PC and netbook defined above, fit into this,  definition. This report continues with that 3-category definition but takes into account the emerging high-end smartphone market where some devices are using high-end screens and high-end processors.
Mobile computing Device capabilities.
The following diagram (click to download a PDF version) summarises the four main categories of mobile computing device shown in the above diagram and shows the capabilities of devices in the categories. The diagram was created in 2006 and so the label names have changed (at that point we were calling the 4-5″ segment a 'Pocket PC' and the 6-7″ segment a 'Carrypad' but the content remains valid.)  Of course, a few devices don't fit well into these categories but for the purposes of understanding requirements, and understanding the different types of mobile devices, this is a good starting point. More details on ultra mobile PC market segments and definitions in the diagram can be found in the 2006 report here. We dont expect this diagram to change for the next 3-5 years until foldable/rollable screens become mass market.
In the diagram you can see the four categories of mobile computing. The 'wearable' smartphone is identified by its very small screen and minimal input mechanism. The 'pocketable' Pocket PC identified by its slightly bigger screen and more input options, the 'carryable' device with a medium sized screen, more processing power and optional input mechanisms and finally the 'portable' notebook PC with its full-sized keyboard and screen and much higher processing power and weight. In each category we've identified the common functions that can only be performed by this category (and the more powerful categories of devices to the right.) For example, you can perform most PIM (address book, calendar etc.) functions on a smartphone but if you want to watch high-quality videos, you have to use a ultra mobile PC or better.
What device(s) do you need?
This is obviously a difficult question to answer and one that will be asked many times by people looking at these relatively new product segments. There is never a 'best' or 'one device fits all' solution so the only way to find your ideal device is to analyse your current and near-future requirements. In all three of the categories, MID, ultra mobile PC and Netbook, there are varying levels of mobility and a different list of scenarios where you may use the device and a different list of how you might carry the device. There's also a huge range of prices, styles, form factors, features and brands.
If you are new to mobile computing, there's one rule you should know about: The more mobility you have, the more places you will find to use your device. The speed of use may be less but often, been able to use a device slowly but successfully is better than not be able to do it at all. For some people, this capability translates directly into productivity. If you are able to watch a time-shifted training video on the bus, standing up, you will save yourself time. If you are able to lie in bed and read emails before you get to work, again, you will have saved time. For other people, this mobility just translates to more fun and flexibility. Think about having a web browser at your side on the sofa. The ability to check emails, weather, traffic info and news even before you get out of bed. Being able to check on recipe details in the kitchen. Having a lightweight, handheld Internet access device in the cafe, waiting room, train, bus, car etc, etc, etc. There are scenarios that you wont even think of until you have your Mobile Computing Device.
As was mentioned earlier though, there are compromises to be made. A mobile device is smaller than a normal notebook PC. The screen space is limited and the keyboards are always smaller than a normal desktop PC. The processing power inside a ultra mobile PC is often less in order to get the required life from the smaller batteries and to keep the heat down in the small casings .There are cost considerations too as the market is still new and the components require more detailed design and in some cases, more expensive components.
In order to decide whether you need a ultra mobile PC you simply have to decide if the improvement in mobility (and resulting increase in productivity or fun) is worth the compromises.
As the price comes down, the designs get refined and the Internet access capabilities improve, the compromises become less and less and more and more people are seeing the positive side of the equation. Eventually its possible that the prices will get so low that you might be able to justify buying a device for one usage scenario. We look forward to that day!
In Part Two, 'Details and Choices.'  We will cover the form factors, the keyboard, storage, the screen and connectivity elements of an Ultra Mobile Computer. You'll find a good overview and a lot of tips that will help you refine your choice.
We hope you enjoy the guide and that it helps you make informed choices. It will be published under Creative Commons license so feel free to share and reproduce it for non-commercial use.

This work is licensed under a Creative Commons Attribution-Noncommercial-No Derivative Works 3.0 Germany License.
Pages: 1 2