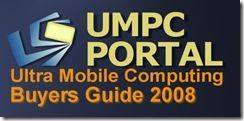 Welcome to Part 2 of the Ultra Mobile Computing Buyers Guide. 'Details and Choices.' I this part we get into details about some of the most important parts of the Ultra Mobile Device starting with the form factors and possibly the most important aspect of all, the keyboard.
Buyers Guide posts:
Part One: 'What is Ultra Mobile Computing?' We give you a history of Ultra Mobile computing, show you how the devices break down into segments and show you what each segment is capable of.
Part Two (below): 'Details and Choices.' It covers the form factors, the keyboard, storage, the screen and connectivity elements of an Ultra Mobile PC. You'll find a good overview and a lot of tips that will help you refine your choice.
Part Three continues the details about the components and covers CPU (including a detailed overview of the currently available solutions) GPU, memory, battery, weight and cost.
Part Four: 'Additional Information and further reading.' In this section we cover some of the less commonly found features on Ultra Mobile computers and give you information and links to further reading resources.
Read on …
Part 2 – Details and Choices
Device designs within the Ultra Mobile PC segment
As we mentioned before, there are many variations in devices within the segment. Every manufacturer is looking for their own spot in the marketplace and is designing with certain target users in mind. The options range from low-powered Linux-based mini tablets, right up to high-powered laptop formats running Microsoft Windows Vista. The price bracket also ranges from under $400 to well over $2000. Take a look at this page which shows all the currently known (200+) devices including MIDs and Netbooks. You'll see a huge range of sizes and the first thing to note is that some have keyboards, some don't!
Tablet format Ultra Mobile PCs (without Keyboard)
These devices generally use some form of touch or pen input to control the device. They may also support handwriting recognition and speech input. Many of the original "Origami' UMPCs were in this category but in 2008 most devices are being produced with some form of keyboard input mechanism. This trend is expected to continue, especially for devices aimed productivity. Tablet devices have the advantage that they are generally smaller and lighter or have the space for larger batteries. It's possible to connect a normal USB or Bluetooth keyboard so they offer a level of flexibility, modularity and choice that you don't find in the all-in-one' device. In some cases, the devices are as powerful as a low-end desktop and can be considered a 'desktop with a screen.' In other cases, the devices are designed as low-power as possible and due to dedicated or closed software, can only perform fixed functions.
Ultra Mobile PCs with keyboards or thumbboards.
Finding greater popularity and responding to previous customer disappointment are devices with keyboards in various forms. This segment actually comprises two sub-segments. Devices with normal keyboards for a familiar desktop typing experience (netbooks or mini notebooks,) and thumbboard layouts. The desktop format keyboards appear mostly in the larger 7-10″ screened devices. Some of these notebook-style devices offer a convertible, swivel screen format where the device can be turned into a tablet. Thumbboards are being experimented with in many differing formats. From hidden, slide-out keyboards to split keyboards. Many more variants on this them are sure to appear. The convertible designs are aimed towards the higher end of the market but some convertible designs are now starting to filter down into the sub $1000 segment and are targeting consumers. A keyboard is an important element of the ultra mobile PC and should be considered carefully. Read reviews and look at statistics (some stats on the relative speeds of keyboards here ) but ultimately, try and get hands on.
For a more detailed look at keyboard types and how to choose between them, see the UMPCPortal article: Detailed tips for choosing a mobile computing keyboard
For most people, the keyboard (or lack of it) will be the first decision to be made and the answer will depend on how you intend to use your UMPC. (Sofa, Car, Bed, Office, Train, Plane, Coffee Shop, Customer premises) and how much you intend to input into the device. Will you use natural handwriting for brief but ultra lightweight operation or will you need a full keyboard for reports, emails or blogging. You may also be considering one as part of a multi-device line-up with a mobile phone and laptop. Thumbboards will naturally appeal to the younger customer but must not be ignored as a quick input method that, in two-handed operation can be a good balance between input speed and input volume.
When making your form factor choice for the first time, don't underestimate the amount of time you might use (or learn to use) the device for web consumption in a social setting. Once you feel comfortable using a device on the sofa, bed, bus or coffee shop you might be surprised at how often you find yourself using the ultra mobile PC in these settings where having the lightest and longest battery life becomes very important and the keyboard, less so.