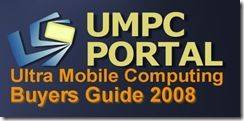 Welcome to Part 3 of the Ultra Mobile Computing Buyers Guide. 'Details and Choices' continues today with a look into some options that will be as critical to the buyer as form factor or keyboard. The CPU and GPU options, battery and weight. We also take a look at the cost of an Ultra Mobile computer.
Buyers Guide posts:
Part One: 'What is Ultra Mobile Computing?' We give you a history of Ultra Mobile computing, show you how the devices break down into segments and show you what each segment is capable of.
Part Two: 'Details and Choices.'  It covers the form factors, the keyboard, storage, the screen and connectivity elements of an Ultra Mobile PC. You'll find a good overview and a lot of tips that will help you refine your choice.
Part Three (below) continues the details about the components and covers CPU (including a detailed overview of the currently available solutions) GPU, memory, battery, weight and cost.
Part Four: 'Additional Information and further reading.' In this section we cover some of the less commonly found features on Ultra Mobile computers and give you information and links to further reading resources.
Read on …
Part 3. Details and choices (continued)
Processor (CPU)
There are a number of CPU's that are being used in ultra mobile devices and each has its own advantages and disadvantages. CPUs range in capability from the simple low-power devices found in smartphones, through to powerful dual-core options that are found in laptops. Your CPU requirement depends on what you expect to do with the device. Below is an explanation of the current CPU options followed by a summary. (Updated from the article originally published in Jan 2008.)
Intel
With the old Pentium-M and Celeron M now gone from the production lines, the Intel Atom processor range lives on as the low-cost Ghz-class processor option. Intel have different ranges of the Atom processor but the two most likely to be found in UMPCs are the Atom Diamondville and Silverthorne processors. Diamondville is a low-cost, low-power processor normally found in single-core, 1.6 Ghz hyperthreading-capable versions. Processing power is roughly equivalent to the old Pentium-M at 1Ghz and it is capable of running common Windows XP and Linux applications at speeds acceptable to most people. In fact, coupled with a fast disk drive, the performance can be impressive and even good enough for Windows Vista. The Diamondville processor is found in most current Intel-based 'netbooks.'
The other Atom processor found in UMPCs is the Silverthorne CPU. Based on the same core architecture as Diamondville, it is focused at very small-size and low power operation and comes in variants without hyperthreading (800Mhz, 1.1Ghz) and with hyperthreading all the way up to 1.8Ghz. Silverthorne is paired with a specific chipset known as Poulsbo (or SCH) which contains a new GPU and video decoding hardware (see below.)
Some older UMPCs are still being sold with the Intel 'McCaslin' platform which comprises a slightly modified Pentium-style CPU at 800Mhz. This has already been phased out but is capable of decent performance and efficiency in some well-engineered UMPCs. Intel's A110 (800Mhz) and A100 (600Mhz) are the labels to look out for here.
Intel don't have a high-end platform for UMPCs but we are seeing some high-end engineering that is enabling laptop processors to be squeezed into ultra mobile PC form factors. Sony have always used the laptop processors in their UX range and currently offer a Core 2 Solo processor with GMA950 GPU. Samsung also use a Core processor, the Core Solo at 1.3Ghz, in their Q1 Ultra Premium. It should be no suprise that devices using these processors tend to be expensive.
VIA.
VIA continue to offer their C7M ULV processor and VX700/VX800 integrated GPU/chipset but have made two announcements about  products that will extend their range and confirm their focus in the low-power and mobile computing market. Firstly and presumably as a spin-off of their dead 'John' Core-Fusion project, they have developed a single board computer using a small-die C7 ULV processor and VX700 chipset. The board is known as Mobile-ITX and is planned for launch at some point during 2009 (delayed from 2008). Mobile-ITX focuses on providing a standard motherboard a very small size that will enable designers to skip the board design stage and thus save time and money. The complete board covers about the same area as a credit card and has the potential to enable Ghz-class x86 computing in smartphone form factors. No details are available at the moment so this is simply one to watch for 2009.
More importantly, VIA have announced a brand new architecture known as Isaiah that will be used in a new CPU range known as Nano. This architecture, developed by their daughter company Centaur, is said to provide 2-4 times the processing power of the C7-M, with advanced sleep and thermal modes in a pin-compatible CPU module in the same power envelope as the C7-M. In addition, VIA have announced a VX800 integrated chipset that incorporates the VN896 DX-9 capable GPU. Unfortunately for ultra mobile PC fans, the 'CN' CPU looks like it will initially target notebook, thin, and green computing devices with part availability planned for end of Q2 and devices available at the end of 2008. It must also be noted that the standard C7 range continues so some repositioning can be expected in the coming years. The C7-M will probably drop in price and become the budget CPU that can be coupled with the VX700 or, hopefully, the VX800 depending on the graphics requirements. The 'Nano' is likely to become the premium part and could enable gaming UMPCs, desktop replacement UMPCs and even low-end video processing UMPCs. Currently though, VIA are in an in-between stage with the C7-M not really being able to compete with the Atom Diamondville CPU.
AMD
AMD have only once or twice talked publicly about ultra mobile devices and their efforts to address that market. So far, no-one has seen or heard of any real hardware or plans but there are rumors that 'Bobcat' is the keyword to watch. Other reports indicate that AMD's 'fusion' concept will integrate the CPU and GPU onto a single die.
Meanwhile, products based on the LX800 and LX900 Geode processor and chipset are still going out of the door although these really aren't competitive in the current market. Recently we have seen a low-end Turion Dual-Core offering being used in a Raon Digital 'Note' ultra mobile PC and this has proven to be one of the most powerful CPUs seen yet in a UMPC. No other manufacturers have yet announced AMD devices so the AMD strategy is really looking like a 'one-off' strategy at the moment.
ARM
ARM is the company that designs the architecture for the billions of processors used in mobile devices such as smartphones and arguably the strongest microprocessor design company in the handheld mobile computing space. The current single-core ARM11 offerings aren't really up to the job of a quality Internet and multimedia experience but there are new cores coming through that could change this. Cortex A8 and Cortex A9 are the next-in-line offerings and promise to offer 3x the processing power (Cortex A8) in the same power envelope as ARM11 cores. Considering the current cores run with power requirements under 500mw and that the Cortex A8 could be as powerful as a low-end Silverthorne there could be some interesting possibilities and competition in the space. Add the fact that the ARM ecosystem is huge, mature and well-experienced at producing mobile devices and add the fact that Open Handset Alliance is developing an advanced, open, web-centric operating system for these types of devices (Android) and that Symbian is already working with these products and its easy to see where the big competition between ARM and X86 will start. Devices supporting Cortex A8 (watch out for Ti OMAP 3430) expected in late 2008. Devices supporting the multi-core Cortex A9 are expected in 2010. Early examples of devices are the Archos 5 and OpenPandora devices.
CPU summary:
At the time of writing, there really is only one player in the ultra mobile market. Intel. ARM and VIA are ready with new products though and these could be important in 2009. Nano from VIA and Cortex from ARM are the two key products to consider.

The UMPCPortal product pages contain processor information for all UMPCs.
Sorting and filtering is available to allow you to quickly choose or eliminate groups of UMPCs.
Graphics processors (GPU)
Ultra Mobile computers are generally not built to support graphics-intensive applications such as games and video post-processing and if you need a device that will run the latest windows games, you will need to look for a high-end notebook PC. Mid-market UMPCs and netbooks do include 2D/3D graphics acceleration support and are powerful enough to run most types of video playback and even some low-end games.
In netbooks with the Diamondville (Intel Atom 1.6Ghz processor) you'll find an Intel GMA950 GPU core. This is good enough for most desktop 3D effects and basic 3D application requirements such as those found in the iTunes software or in Google Earth. Gaming with 2002-2004 games is also possible. Some high-end netbooks are starting to use third party processors from Nvidia or ATI. Assess these on a case-by-case basis but expect performance 2  to 3 times better than the standard offerings.
The Intel Silverthorne CPU (Again an Atom core) is coupled with a chipset known as Poulsbo or SCH. This combined chipset includes a Power VR 3D core from Imagination technologies. In high-end versions of the chipset it also includes dedicated video decoding hardware for WMV, H.264, MPEG4 and MPEG2 compression standards. At the time of writing, the drivers for these devices don't appear to be fully developed and many applications wont use the capabilities so some performance limitations should be expected. As more OEMs start to use the devices then we should see faster development of drivers and applications for Vista, XP and Linux variants. Intel have committed to producing drivers for Linux and will make XP and Vista drivers available as OEMs require them.
VIA C7-M based devices are still using VX700 chipsets with older DX7-capable hardware and some video decoding acceleration. The newer VX800 chipset is largely untested at this stage but, like the Intel SCH, will require mature drivers before the capability is fully exposed. It includes a new graphics engine and hardware decoding support for common video encoding standards.
Note that video content relies purely on the CPU to do the decoding unless specific hardware is available in the chipset. (VX700, VX800 and SCH) AND if the drivers or application are built to use it. Youtube and other flash-based video content is always reliant on a relatively fast processor for good quality playback.
Memory.
Memory required is largely dependant on the operating system you want to run. Devices based on Windows CE use very little memory. Windows XP-based devices generally require 512Mb to be efficient with 1GB recommended for multitasking. Vista devices require a minimum of 1GB (2GB recommended) and Linux-based devices can run in as little as 256MB but again, if used as full desktop PCs, will require 1GB or more depending on applications. Be aware that memory is not often a user-unreadable item so an extra $100 to double the memory at purchase-time could be a wise move. Extra memory can positively affect the speed and battery life of a device and is highly recommended in a UMPC.
Battery.
We would all like to have 8 hour battery life on our mobile PC's. Unfortunately, this is not available in 2008. The balance that the manufacturers have made between hardware design, weight and battery life results in 2-3hrs run-time for 7-10″ devices that use batteries in the 25-35Wh capacity range. Extended batteries will obviously improve this it at the expense of weight and cost. For the smaller devices using the latest technology, drain rates drop down but battery sizes drop too. Smaller devices with batteries in the 10Wh to 20Wh range are also providing between 2 and 3hrs run time.
Our predictions on battery life over the 5 years from 2006 are as follows:
Real-use battery life predictions. (30wh battery, wireless network connected, 50% screen brightness, web usage, 7″ screen)
2006 – Average ultra mobile PC life 2.5 hours
2007 – Average ultra mobile PC life 3 hours
2008 – Average ultra mobile PC life 3.6 hours
2009 – Average ultra mobile PC life 4.3 hours
2010 – Average ultra mobile PC life 5 hours.
Maximum battery predictions (idle device, often used in marketing)
2006 – Average ultra mobile PC life 4 hours
2007 – Average ultra mobile PC life 4.8 hours
2008 – Average ultra mobile PC life 5.75 hours
2009 – Average ultra mobile PC life 6.9 hours
2010 – Average ultra mobile PC life 8.3 hours.
Most users look for over 3 hours in-use battery life for mobile scenarios and currently, only the best devices with the highest density batteries can achieve this.
Be aware of manufacturers claims as industry figures are generally 30% more than what might be achieved under normal use conditions. WiFi, 3G and screen brightness have a huge effect on battery life and so if you expect to use the device outside, connected to a 3G network, you should expect a battery life at the low end of the scale.
Be aware that even smartphones only return 2-4hrs of Internet-use battery life due to radio considerations and the extremely small batteries used in them.
Cost.
With the introduction of the 'netbook' category which is largely focused on driving 2nd and 3rd consumer PC sales, the average prices in this category have nosedived. The netbook category is starting at around $250 and ranges up to $600. This has also impacted the prices of the pro-mobile devices too. Where $1200-$1500 was common, device prices seem to have dropped to an average of under $1000 with prices starting at $500. The pricing of the MID segment is still being tested by manufacturers but a few examples are being seen with 3G included at around $600-$700. The prediction is that the MID pricing will drop quickly during 2009, netbook prices will stay in the same range (with more features being added) and that pro-mobile devices with 5-9″ touchscreens will remain fairly stable between the $800 and $1200 range.
The complete ultra mobile PC segment is a fast changing one though and devices are being replaced by newer models at 12-18 month intervals. Prices for older models drop sharply towards the end of their life and bargains are easy to find if you're prepared to use the previous-generation technology.
Weight.
How heavy is heavy?
Netbooks are ranging from 2.2lbs (1KG) up to about 3.3lb (1.5kg) and represent a weight that can be carried around all day and used on tabletops. The lightest of netbooks can be used in one hand for short times.
UMPCs with 5-7″ screens appear in the 1lb to 2lb range (500-900gm) and in this weight category, its possible to hold the devices for longer periods on one hand opening up possibilities for touchscreens, thumb keyboards and use while standing up. The smallest of these devices are pocketable for short times in big pockets!
MIDs with 4″-5″ screens are aiming at the pocket and as such, are mostly under 1lb with the lightest being around 0.5lb. They are still not as small and light as most smartphones, but provide a comfortable one-handed experience and aren't too heavy for a pocket.
Be aware that extended batteries will add weight. Expect 100-150gm per 30Wh of battery.
In part four we round up with a brief look at many of the optional  features on an ultra mobile computer and show you how to find out more information about specific devices.

This work is licensed under a Creative Commons Attribution-Noncommercial-No Derivative Works 3.0 Germany License.