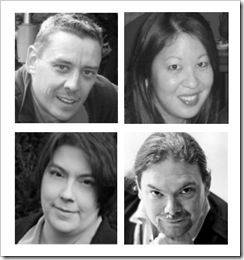 About 8 months ago I had an idea for a promotional project. I called it the 'MID Summer Tour' and pitched it to Intel. They were very interested but unfortunately, my timing was terrible. I should have known that projects like this can take an extremely long time to set up so instead of a summer tour, we've re-worked the idea and have come up with the MIDMoves project. A mobile Internet device project, website and tour that will take place during Jan 09. We're going mo-blogging crazy with Intel MIDs!
Over the next 4-weeks, 4 people will be preparing themselves for a 4-day tour with Intel's MIDs. We're going to prepare by talking about the latest location-aware services, look at how we can integrate services like Friendfeed, Twitter, Flickr, how we plan to stay connected using 3G and WiFi services and how we will communicate back to the website. Then, soon after CES, we'll have 8 Intel-based Mobile Internet Devices distributed across the team and starting on the 19th Jan we go mobile! We'll be leaving our comfy offices and getting 'out there' to test the devices, the scenarios, the mobile communications software and the public. We'll be creating a near-live, media-rich, mobile-communications road-tour right on the MIDMoves website.
We haven't been given the full list of devices yet but I've been told that there could be a few surprises. The devices shown below give you some idea of the range of devices we could be looking at and the timing of the tour, a week after CES, also gives you hints that we really could be handling hot, new devices.

The team includes myself along with Jenn, the gadget-mad girl from  Pocketables, Nicole, a new-media expert, blogger podcaster  and author of a book about Twitter who you can find more about at Cruel To Be Kind and a mad Scotsman. That will be Ewan Spence the podcaster, blogger and mobile computing fan then!  We've all planned tours ranging from a multi-country 4-day-dash around central Europe to roller-coasting madness in Florida. Myself and Nicole will also be at the Microblogging conference (MBC 09) in Hannover on the 22nd Jan so if you're in the area, make sure you let us know. The tours all integrate location, communication, entertainment and work and should be fun to watch.
So join us over at MIDMoves where we've already started preparing. You can read about the project, tours, check out some of the tools we're testing and track each person on their own page as they set up their own Web2.0 tools. The site has been based on an off-the-shelf content management platform (WordPress.org) and template layout and that, along with the tools on the site, will evolve as we learn and make decisions based on our research and your input. Feel free to let us know what you think. Know any great social or geo-location apps? Got any battery life tips? Know about the best 3G deals? Want to design us a new logo? Please get involved! Naturally You can comment on any post but if you want to contact us or have an idea for a guest-post, please contact us directly. If you want to join in the fun, feel free! Plan an event, grab your mobile device and let us know. Together, let's try and learn as much as we can about mobile Internet devices and mobile Internet services.
P.S. UMPCPortal continues as normal during the MIDMoves project. You can be sure I'll be reviewing any MID's I get hold of and I'll be relaying important reports from the other MIDMoves team members too.