As we mentioned on CES podcast 8 yesterday, the UMID M1 seems to be getting a lot of attention. Mini clamshell laptops always attract the eye as a familiar form factor so its not surprising.
Both jkOnTheRun and Pocketables have had hands on now and the feedback is positive. James called it out as his favorite of all the Intel MIDs. [Note: Intel and others have been calling the Windows based devices UMPCs but I sense that soon, everyone will be calling them MIDs.The marketing is tending in that direction and there's nothing much we can do to stop that.] Jenn had a good hands-on session and has written a more detailed article saying that it works well for thumbing but that it felt a little laggy in a Vista/1Gb kind of way. She was testing the 1.1 ghz version. A 1.3ghz version with hyperthreading is planned.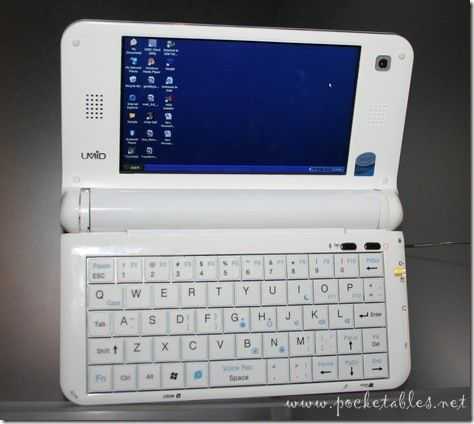 I really think that this device could sell well and will stimulate OEMs to develop prototypes in this form factor. I don't know why they've waited so long! Mini clamshell devices always seemed like a good idea and you only have to say the word Psion on UMPCportal and the commentators get active.
Hop over to Pocketables for a great set of pics and more thoughts from Jenn and check out more details and links on our UMID info page.