It used to be a lot simpler. An email and a response was all that was needed to communicate over the internet but now, multimedia, the need-for-speed and the possibility to broadcast messages and presence information has changed that permanently. We're now in a situation where people are leaving email until last and if you want to talk to someone you need to be quick, concise and to catch them when they're in their virtual office. I.e. Status: ONLINE!
In my daily work for UMPCPortal I've always tried to remain available and online but because of the fragmentation that has happened in the last 10 years, I now need to be multi-present. It's like I've had to build multiple doors, tunnels and stages in my virtual office so that people can come in through any method they choose. Apart from the fact that this often kills my already fragile ability to concentrate, it creates a challenge. Should you attend to all doors or leave some locked or hidden? How do you integrate them into your PC desktop experience and how do you transfer that into a mobile scenario…
Here's a quick list of incoming and outgoing 'channels' that have contributed to my own challenge over the last years.
Email. It's near real-time in most cases and push technology has extended out to most clients.
My blog, comments and forum. My business!
My contact form on my website. It ends up as an email.
Twitter. To be honest, twitter is more of a podium and query channel for me. I'm lucky that I often have news that people want to hear. I follow many others too but rarely am able to get the full real-time value out of it. Most messages from others are long-gone before I get the change to look at my twitter page or notification tools. It's value is limited as an incoming channel.
Friendfeed. It's value is dropping as an incoming channel (way to much noise and too much work to filter it) but as a funnel, it's becoming a good place to send people to if they want to see everything I do. An RSS aggregator.
RSS feeds. Hundreds of them! It's a constant battle. I spend hours pairing them down and then, within a week, I've got 10 more to follow. Despite the problems, I value them highly.
Facebook. I never use it but close friends and family are. I like to see what these people are doing.
Skype. Cheap voice calling to other countries is important to me. Skype's complex and closed protocol bugs me but important business contacts use it and it saves a stack of money on outgoing international calls.
Gtalk. I use Gmail. Gtalk integrates very nicely with that and gives me IM, email notifications and voice messaging. I wish it was my only IM platform but….
ICQ, Yahoo IM, AIM and Microsoft messenger are still hanging around from the early days of IM.
Flickr. A visual news platform for me. I send images out and reference my articles or activities. I follow flickr search feeds as a nice visual news tool.
Ustream. Used a  live video publishing platform. Sometimes when mobile and sometimes for audio only. Relaible and fairly flexible.
Linked in. Like facebook, there are people on Linked in that want to connect. I rarely use it but I don't want to have to say 'no' to potential business contacts.
SMS. I'm European. Say no more! SMS is expensive but has near 100% penetration. You can't ignore it but I wish it was easier and integrated into a PC experience.
Traditional voice 'phone' service.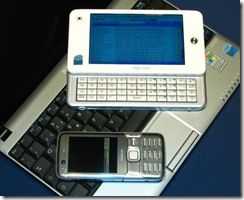 There's more I could do including voice messaging and video messaging using tools like Jaiku, Plaxo, Seesmic, and there are a lot of alternatives to the services above but so far, what you see above are my top tools at the moment. In terms of clients, it means running a browser, Skype, Gtalk client, Meebo.com and often, Trillian.
In general, when I'm in the office, none of this is a problem. All PC's are powerful enough to run the required client software in the background. It takes a little effort to get all the 'status' messages unified but in general, its manageable. The big problem comes when you step away from the desk. Every status message becomes invalid and every incoming instant message has the change to fade, scroll or ring out before you have the option to action it. Clearly a personal, wearable/carry-able location-aware, movement aware communicator is the answer but with so many of these services requiring a PC, keyboard and always-on Internet connection, its impossible to move everything to even the best of today's smartphones. Even the cost of the mobile Internet connection is a major consideration.
Lets look more closely at some of those services and see what the requirements are for each one. Lets think about Internet connectivity, keyboard, screen size, battery life, mobile data cost and then, lets look at tools, services and methods that would allow us to optimise the requirements.
| | | |
| --- | --- | --- |
| Skype IM, Voice and Video | Full Internet. Potentially high data costs. Large screen size. High CPU requirement. Always-on requirement | Alternative would be to drop video requirement or to use a skype IM or voice proxy service. |
| Facebook website | Full Internet browser. Potentially high data costs. Large screen size. Medium CPU requirement. | Widgets, email and RSS feeds allow you to get notifications and send updates on small screen with low CPU and data requirement. |
| Flickr website | Requires full Internet browser. Potential high data costs. Medium CPU requirement. | Many client tools exist that allow you to monitor and send flickr content. Email and RSS can also be used. |
| Email | Requires client or web browser. Potentially high data costs. Low CPU requirement. Generally requires a keyboard. | Many mature tools can lower requirements. Arguably the most commonly used platform and available on many phones. |
| Twitter website | Requires simple web browser. Low CPU and data costs. Always on requirement for use as incoming notifier. | Many third party clients exist that can reduce CPU, browser and data costs. |
It's clear that from just these 5 examples, there are some common denominators here. Web browser and always-on internet connection being the primary ones. There are workarounds and alternative clients but it's hard work to find all the clients for a smartphone easily, to be confident that they are reliable and secure and to ensure that you get all the features of a the required service. When you change your phone every 18months you also don't want to be faced with the huge task of migration, finding and loading new clients and tackling the learning curve. For some, its fun to play around with new clients and tweeks but in my opinion, it's never productive and after doing it twice, you want to avoid it in the future.
I come to the same conclusion now that I did a few
years ago when I started my search for a 'carrypad' that the best way to ensure that you can run all your communications methods and to easily accommodate emerging 'must haves' is to make sure you have 1) a good browser, 2) a PC platform with desktop OS and 3) an always-on mobile Internet connection in a handheld format.  With these three ingredients, you get stability, familiarity, flexibilty, mobility and confidence. The problem is, there aren't exactly a huge range of mobile devices on the market at the right price that can offer all this and an all-day battery life! Fortunately, that's changing.
We're at a point along the technology timeline where that all-day handheld computer is now possible. A few weeks ago I was lucky enough to test out a sample of the Wibrain i1 UMPC. It offers all-day battery life. 7.5hrs online standby time and 5hrs screen-on working time with a built-in 3G connection, a keyboard and comes in at around 600gm. It runs Windows XP and it's powerful. Powerful enough to give you an exceptional mobile Internet experience and not to leave you hanging around for minutes for programs to start of web pages to load. It's not exactly the slim, shirt-pocketable design that most of us would want to carry with us but it's not much further down the timeline until we reach a point where a slim 300gm tablet is possible.
Over the years I've tried a number of smartphone solutions and a number of ultra mobile solutions and I keep coming back to the same thought. Why should I fight the never-ending fight to get a tiny device to do everything I want. The physics just aren't right for me with small screens, T9 input, lack of USB host support and batteries that die within hours if you do anything that strains the CPU or that requires long periods of Internet connectivity. Small, slow storage and ever-changing operating systems are also an issue. Mobile phones can do some things very well but if you need to be connected with all the services above in an efficient and reliable way, you need something better. The correct tool for the job.
I'm quite sure that among the range of MIDs and ultra mobile devices on the market now or due to launch in 2009 is a device that I can take on as my 'buddy.' As I mentioned above, the Wibrain i1 sample I have here is very close. I take it everywhere and its amazing how efficient it is. It allows me to work with my normal process flow just as I would on the desktop. I've installed that same apps that I love to see on the desktop (OpenOffice, Paint Shop Pro, Livewriter, Audacity, PC Navigator, Firefox, Last FM client and many many more) and with a battery life that gives me always-on capability, I rarely have to go into standby mode.
There are still things that my N82 smartphone does better. Snapshot photos with a GPS tag and a quick upload to flickr is quick and reliable. The podcatcher is perfect and for a quick video chat with my wife, there's nothing easier. I'll read email before I get out of bed. Use it for quick twitter postings. Check over my google reader account while waiting in a queue and play my MP3s on it but its not the core of my communications anymore. Here's how i'm currently splitting my communications between the N82 and the Wibrain i1.
Email. Thanks to Gmail, I can handle this over multiple platforms. Reading happens on any device. Composition happens mostly at a desk unless a one-liner reply is possible. I hate sending one-liner replies though.
All work on my website is done via a desktop OS. I just don't trust 3rd-party services to relay info to my blog. When i'm mobile, the Wibrain takes the strain here.
My contact form on my website. That will arrive on my phone. Possibly be read on my phone. If it needs a long reply, it will probably get left for later.
Twitter. For quick tweets, I use the mobile phone but not nearly to the level that I use Twitter via Twhirl on the Wibrain.
Friendfeed. I've tried using it from a phone but it's clumsy.
RSS feeds. Google Reader helps to syncronise this over multiple devices. Depending on the location and situation I will use anything from the phone to the desktop.
Facebook. If I need to use the website, it requires a full browser. The smartphone in a non-starter for me.
Skype. This is one that really requires a desktop OS to get the best out of it.
Gtalk. This is potentially one that I could run on a smartphone….if I could be confident that the battery wouldn't die after three hours!
ICQ, Yahoo IM, AIM and Microsoft messenger. Again, running always-on Internet clients on smartphones drains the battery too quickly. Having to run multiple clients just makes matters worse.
Flickr. Due to the excellent camera on my smartphone and the terrible ones on the UMPCs and MIDs i've tried, the smartphone if the device of choice here. Posting the occasional image via 3G doesn't impact battery life.
Ustream. Only works on a PC-based system.
SMS. Obviously only a smartphone app but i'd like to see an easy, cheap way to use this on a PC.
Traditional voice 'phone' service.  For incoming, I only use one number – my phone. For outgoing, I use VoIP on a pc so a PC-based mobile device would be important here.
As you can see, there's a good spread across the two devices but simply no way I could run everything on a smartphone. For my connected life as a professional web-based worker, the two-device strategy of phone and ultra mobile PC is a must!
Over the period of the MIDMoves project the team will be reviewing all the Intel-based MID devices we're given. I wonder if i'll find my 'buddy' amongst them!