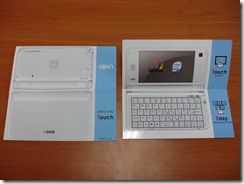 With a base memory of 512MB, a Linux OS and the 1.1Ghz processor, the $500 local price reported by (Via Lazion) indicates that there's going to be a wide range on pricing for the UMID M1 MID/UMPC
Add an estimated 70 for XP, 100 for 1.3Ghz, 50 for another 1GB and 120 for a 3G module and it brings the pricing up around 850 dollars for a high-end model. It's going to seem quite high to a lot of people but in reality, it's not. $850 is still cheaper than many other 3G enabled mobile computing options (OQO 2+, Q1 U HSDPA, U820 HSDPA) and in-line with high end smartphones that are also commanding prices in this area. (E90, Touch HD, Advantage.) The chances are that this could be one of the best ultra-mobile mini-pc's yet.
We've heard that both Dynamism and Mobilx are working on global sales for the UMID and we're expecting prices very soon. The source article indicates that samples are going out from UMID now so that would indicate a timescale of under 2 months to sales.
Source PMPInside
Update: Another post at CNet gives us the details in English. Note Kevin's comments about the RAM.