Like women with shoes, geeks can never have too many gadget bags.
Over the last few days I've been testing out the Ultimateaddons netbook bag from Ultimate Netbook. Its a 700gm bag with a split, padded central area and additional front and rear pockets.

Click for bigger images or here for full gallery.
I've tested it with a Medion Akoya Mini (Aka MSI Wind) which is 260mm wide (10.2 inches) and it fits snugly. Anything wider than 270mm could be a problem but that's enough for almost every netbook with a 10.2 inch screen. I've also tested it with a Fujitsu U820, U20 power bank (recommended, also from Ultimate Netbook) and threw in all my normal bits and pieces. Total weight will all that kit (over 10 hours of computing!) was just 2.6kg. It makes a perfect conference and coffee-shop bag.
I checked out all the seams and zips and it seems very well built. Strong materials, good zips, magnetic flap. The central pocket is well padded and the shoulder strap is comfortable. In terms of styling its pretty good too.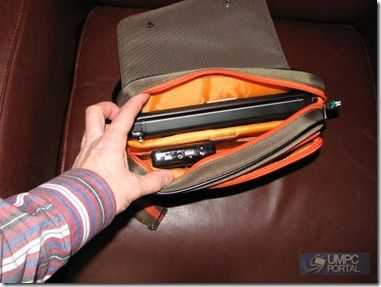 The best thing about it though is the price. Under 20 pounds for a well built bag makes it a must-have in my opinion. Shame that it only comes in the khaki colour. I'm sure black, red and blue colour would go down well.
Ultimate Netbooks are in the UK and can ship Europe-wide. More details about the Ultimateaddons 8.9-10.2 Netbook Shoulder Bag Case can be found on their website.