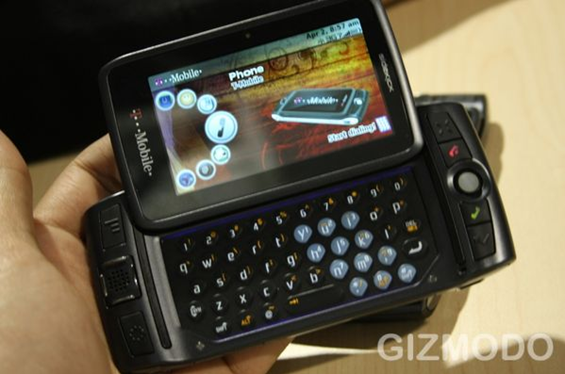 I love competition. A company drops a device like the iPhone 3G integrating some great hardware, and quite soon after, all the other players realize that they need to update their own hardware to catch up. Welcome the new Sidekick LX into the competitor's corner. The Sidekick has been exclusively on T-Mobile since its creation, and the LX is no different. While the overall form factor of the Sidekick LX has not changed much from past iterations, the LX adds some nice new hardware:
3.2 inch high res 854×480 screen
3G connectivity
GPS
3.2MP camera with autofocus and LED flash
Additionally the Sidekick's software has been updated to be a bit more social. Twitter, Facebook and Myspace integration has been built into the interface so you can get notifications from your favorite social network on the go.
Adrian Covert from Gizmodo got a short hands-on with the device saying that the external design of the device is not much different but it "feels and looks pretty solid as far as Sidekicks go inch. And that the keyboard "feels nice and clicky, and the screen is gorgeous inch. Sounds like a nice upgrade from previous models. Swing over to the Gizmodo article to see some images of the Sidekick LX.