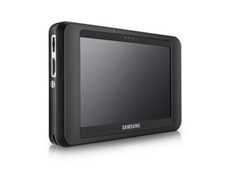 Ever since we outed the Samsung Q1EX I've had trouble positioning it. After an unboxing (see below) a 4-hour live Q&A session (1hr video below) I still cant see why Samsung created the Q1EX. It's a fine tabletPC  but in the last 3 years they've learned a lot about the ultra mobile PC market and they know that Tablet PCs can be a hard sell. What made them go back to the no-keyboard form-factor?
From a TabletPC perspective, the Samsung is actually a very good all-rounder. I called it the '20% device' in our live Ustream Q&A because that about sums up the improvements overall. 20% less weight, 20% less cost, 20% more GPU, 20% more battery life, 20% better looking!! All excellent incremental changes for the TabletPC market but there are silly things that appear to have been left out.
A 1.3mp cam on the rear means it's no good for Skype video and not high enough quality for photography. The stylus slots into the lanyard which means you need to leave the lanyard attached, affecting the smooth looks of the device. The hard drive is neither fast (in comparison with some of the SSD's we're seeing now) nor does it have a very high capacity. The touchscreen doesnt run full tabletPC-compatible drivers meaning the input panel doesnt float and you get low sample-rate handwriting recognition. The organiser pack accessory bulks it out to a size that's than most netbooks and finally, I managed to push the CPU/GPU combination so hard in a Cooliris test that I got the battery life meter down to 1.5hrs! It bounced back up to three when I stopped playing with Cooliris but it shows that the power envelope of the Q1EX is very very wide.
Full specifications and links in the product page.
On the positive side, the push/scroll wheel is the best implementation I've seen yet for an on-screen control panel. Changing brightness, volume, rotation is a breeze. The weight is down to one-handed usage levels meaning you can flip this one into portrait 'reading' mode. I was seeing over 4hrs battery life in this, no-radio, quiescent state. Also, the touchscreen has some palm rejection capability. For my 'pinky on the screen' left-handed writing method, it didn't work but it's clearly a lot better than other touchscreens for handwriting. In fact, one-handed portrait mode usage with a stylus is probably the #1 'feature' over other UMPCs.
Considering that this is entering the market at $750, I would expect to see this discounted like many other devices have been over the last two years. In fact, I think this is very likely. It looks to me like this was a project by Samsung to put a new tablet out there for a specific market, a market-research exercise or even an industry request. Resellers have decided to price-up the device (still below all the other Samsung ultra mobile PC offerings) in order to get the most out of the early, mostly commercial, buyers but based on the fact that a VIA-based Samsung NC20 can sell for 75% of the price, there must be room for a sub $500 or even sub $400 price point. That would be pretty close to that CrunchPad that Techcrunch are working on.
What do you think? Is there a usage model that jumps out at you or is this simply targeted as a good quality, well-priced, TabletPC? Here's the unboxing video…
For a more detailed look at the Q1EX, check out the Ustream recording below. (If the video is not showing below, go to the Ustream page. I've been seeing some problems with the UStream embedded videos today.)
Thanks to VIA Technologies for sending the Samsung  Q1EX over for a test.