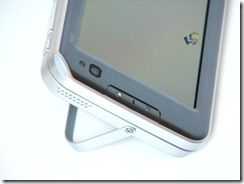 Mobilecrunch have an 'exclusive' (tip from an unknown source) this morning that lists the specifications of the next Nokia tablet that they are calling the N900. The specs match what most people have already worked-out apart from two imporant things. A 3.5 inch screen and GSM voice.
Why produce a device that competes with Nokia's mainstream handsets and moves away from the MID category by aiming to be the all-in-one? The N810 was good as a dedicated device at 4.1 inch and if anything could be better at 4.8 inch which would improve web-page readability, e-reader capability, video playback experience and navigation; new markets that Nokia could be addressing with the Maemo platform.
As someone has already said in the Internet Tablet Talk forums [Good discussion here], this could be a Maemo phone or one of a range of devices. I truly hope so.
Oh, one last thing, Mobilecrunch expect a July launch for the device through T-Mobile. Maemo has just gone into Beta so I expect that to slip a little.
Overall, we're not getting the right vibes on this one. Shenanigans?