If you had dropped by the live page earlier you would have seen me having some fun with the new publicly available release of Windows 7 Release Candidate 1. I've been testing it on the Gigabyte Touchnote T1028M and the Kohjinsha SC3 today and so far I've been impressed by how smoothly the install process has been. On both devices, almost everything is working and on the SC3, even the tablet features are available.
Gigabyte T1028M Touchnote.
I have a modified Touchnote netbook here with 3G, 2GB and SSD and it appears that most things are working out of the box apart from the 3G driver (fixed with standard drivers) the screen brightness and battery indicator. Smart Manager, the touch control panel, doesn't install but Wifi, BT and WWAN can be enabled and disabled via the FN keys.  Installation was smooth and quick (expected with the SSD) and the touchscreen worked immediately.   The WiFi needed a Windows update but after that it was working perfectly. Standby, hibernation, SD reader, USB, WLAN, LAN, audio, multitouch pad, BT. Even H.264 and Divx videos work out of the box which is a real bonus. I haven't tested the ExpressCard/34 slot but I'm not expecting a problem there.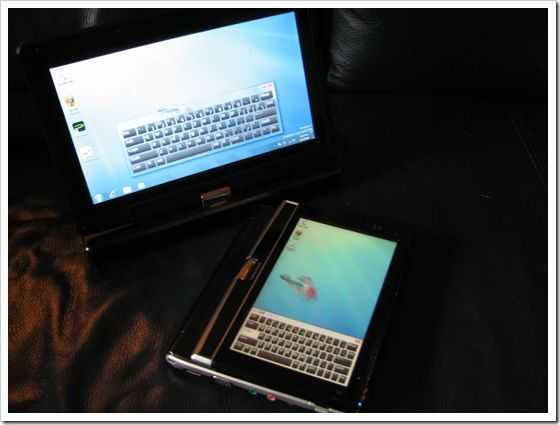 Kohjinsha SC3.
The SC3 is based on the Intel Menlow platform which includes the Z-series CPU and the US15W chipset (AKA Poulsbo – Exactly what you'll find in a Sony Vaio P) It also contains a VIA wifi module, GPS hardware and, as with the Touchnote, an ExpressCard/34 slot. The SC3 required some drivers from Kohjinsha but after installing all missing hardware, only the redundant DMB module doesn't work. As a bonus, after I installed the Pen-Mount touch drivers, the Tablet features of Windows 7 were enabled which means floating tip, handwriting recognition and a few other features are now available. With rotation working perfectly and a very usable OSK, the SC3 has suddenly turned into quite a usable little tablet device. Slower than with XP but faster than Vista and with all the additional features that were missing from XP. One thing I really love about Windows 7 is that it connects with the hardware decoding on the chipset and due to the built-in H.264 codec/filter, it can play 1080p out of the box. I tested a 12Mbps H.264 1080p video and it was working extremely well with only a bit of tearing to distract me. Unfortunately, the HDD on the SC3 is as slow as an old dog and there's still the 2.5hr battery life to contend with. Windows 7 isn't a magic wand!
In terms of overall performance, Windows 7 has slowed both machines down slightly from their previous XP installations but with more going on in the background, that's to be expected. On the other hand, its a much smoother and quicker experience than Vista and the trade-off could well be worth it, that is, if you have a fast disk of 32GB or more, 2GB of memory (to be safe) and the money for what will be quite an expensive OS. Clearly Windows 7 is a nicer working environment and I'm sure that after a while on the Touchnote I'll find myself locked-in to those little extras that make all the difference but I can't see myself using Windows 7 on a ultra mobile PC or MID simply because of the drive footprint, memory footprint and the number processes running. Which begs the question, what happens when XP is gone? I still don't see a Microsoft option for UMPCs and MIDs beyond 2010.
I'll be keeping W7 on the Touchnote, working through the Windows 7 features and trying to fix the important battery indicator and screen brightness. If I can fix that i'll be using it as my daily notebook unless I find other problems. As for the SC3, its there, its working. I don't use the SC3 because of the slow HDD and short battery life so that's that for the time being.