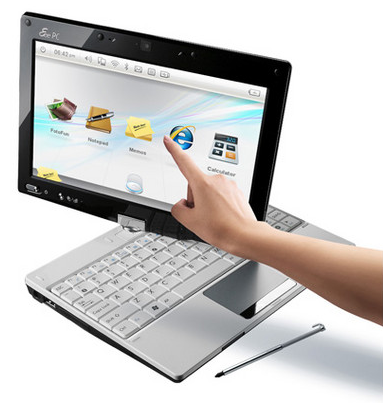 So it seems as though the multitouch enabled T91 that we saw at Computex wasn't just a proof of concept. AsusTablet.com reports that Asus UK told them that there will be three versions of the Eee T91 [Portal page]. It looks like the versions will come in the following flavors:
Eee T91: Windows XP, normal resistive touchscreen
Eee T91A: Windows 7, multi-touch capacitive screen
Eee T91GO: Integrated 3G, GPS, DTV tuner, normal resistive touchscreen
With this early information it seems like we might be breaking the news up into more or less models than there actually are. It seems more likely that you'll be able to get a T91A(GO), which would have the integrated goodness but Windows 7 and multi-touch, or a T91(GO) which would be Windows XP, integrated goods, and resistive screen, or the two different models without the built in stuff (ie. the T91A and T91) though that is just speculation. Of course Windows 7 helps us predict some release dates. I think it can be safely said that the multi-touch version won't be out until on or after Windows 7 hits the market.
via [GottaBeMobile]