I've been giggling for the past hour. I just can't work out if that portfolio case is a masterstroke or just plain silly but one thing's for sure, it highlights how small this device is.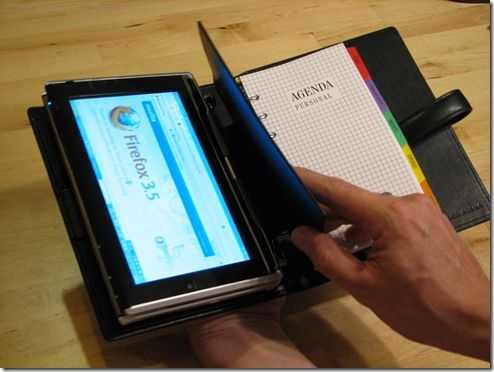 We got hold of the Kohjinsha SK3 a few hours ago and ripped straight into it with an unboxing video that you'll find below. So far we're impressed with the build-quality, the size and weight, the features, the bright and crisp screen and of course that portfolio case. We're not so impressed with what looks to be low-end battery life (largely due to the tiny battery) and the Japanese language XP build (a nice challenge!) although the speed of the device seems to be good. XP is helping here. The keyboard is exactly the same as found on the SC3 so you're limited to pecking on the desktop although thumbing and single hand-hold pecking is also possible. The screen mechanism is solid.
Full specifications for the Kohjinsha SK3 along with links to the new gallery, videos and other articles are in the product database.
We'll be testing more over the weekend so watch out for a full hands-on early next week. A live session is tentatively planned for Monday evening (Central Europe time.)