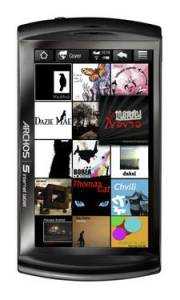 As the Archos press conference starts in Paris, it seems the information on the tablet has already leaked. This is unconfirmed information from OS informer, translated from German. More news as it happens. (I'll update this post below)
– 8 GB to 500 GB storage:
РHD-support: 720p HD-Aufl̦sung (H.264 HD, MPEG-4 HD und WMV HD).
– Web-TV and -Radio:
– TV-recording: With the optional DVR-station. optionalen DVR-Station bietet das "ARCHOS 5
– ARCHOS Media Club: (Content)
– HD Cinema Plug-In: Playback of WMV-HD-films in
720p, and Films im MPEG-2/VOB-Format with AC3-Sound.
– Accessoires: DVR-Station, Battery Dock, HDMI Mini-Dock, GPS In-Car Holder,
Helmet Cam and more.
The "ARCHOS 5 Internet Tablet" will be available at Amazon from the 16. September 2009 for 229,99 Euro (8 GB Version). The 64 GB Version will start at 399,99 Euro. The 120-GByte-Version is 250 Euro.
18:21. Watching the live stream here.
Still haven't had confirmation that the info above is correct.
More taken from the German posting….
Ti OMAP platform (Cortex core)
Integrated GPS
Supports 'thousands' of apps from the App store. [important to know that it's backward compatible.]
Supports mouse and keybaord via micro USB port.
Accelerometer
18:45 Lots of talk about the App store and what it means for sales.
18:50 Archos 5 now being discussed….in French. Waiting for translations to feed through.
First video has been found on the net (thanks TSO)
Some press photos: https://www.umpcportal.com/gallery/v/Archos5IT/
18:57: There's talk of an 800Mhz CPU. That's 30% faster than the N900
10mm thick, 180gm.
1900: 8GB SSD version with 3G – 8Go – is 229 Euros. (still not 100% confirmed that it's got HSDPA though)
Bluetooth included.
Flash 10 support with Android 2.0 in Q1 2010 (IMPORTANT!)
19:11. Voip app is included. That means it probably doesnt support traditional voice.
19:13 Navigation app uses google maps (for the first time – turn by turn with Google maps?) Satelite imagery is also available. How much is the turn-by-turn plugin going to cost?!
19:17. Archos website still down for 'maintenance'
Note: HD playback/output on this is 720 (1280×720), not 1080. Still, good enough for most people!
HDMI on the mini-dock.
19:26 A range of keyboard available. BT, Slim.
19:31 Prices shown. Some confusion now as to whether it has 3G
19:33 3G phone tethering announced as a 'feature' It's not looking good for 3G goodness.
19:42 Conference seems to be coming to a close.
19:46. Archos Phone tablet has been announced. With 3G. To be launched at CES it seems.
19:46. Conference appears to be over. For real!
Summary: Looking like a real iPod killer. A great MID with a high-end mobile processor, GPS and WVGA res but without 3G at a 229 Euro / 299 dollar entry point. Good job Archos.
Todo: Double check pricing of plugins. Availability. Wait for Archos.com to come up with the official info.