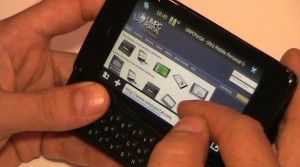 What a stroke of luck. JKK was checking out the Nokia N900 information page in his homeland yesterday and spotted that it would be available to view in the flagship store from today. He's now got a hands-on video (shown below) and we've rounded up his thoughts in a podcast, also embedded below.
He likes the keyboard apart from the missing 4th row, thinks there's room for improvement on the browser and puts it in the 'same category' as the HTC Touch Pro2 and N97 which he puts alongside the N900 in the video. In the podcast we talk about the software ecosystem and how that N900 could grow into a completely different device over the coming year. At 599 Euros, I don't think too many consumers are going to be running for the N900 but for MID fans, web pros and developers, this is definitely one to consider buying as the hardware, both outside and in, looks to be best-in-class.
Video is still encoding into high quality. Check back again later for HQ version.
Podcast. 26 minutes.
Podcast is available for download here.
There's a ton of information in the N900 in our info page including specs, more videos, community links. Check it out here.
Thanks, jkkmobile