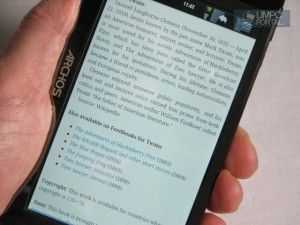 I'm no expert on e-book reading but I'm a big e-reader. What I mean by that is that I read electronic content all day long but I don't read many books. I've been working my way through the Adventures of Tom Sawyer on the SmartQ7 and have tried to continue on the Archos 5 but I don't get very far before I'm distracted by an email or twitter notification and then I'm off into one of those enjoyable but never-ending web journeys.
Based on my experience with the Archos 5, its form factor, hours of using Google Reader (Android formatted) and the web browser I'd say that the form factor lends itself perfectly to 1hr reading sessions and that due to the weight (smartphone weight) and screen characteristics (200 ppi and well-aliased fonts and adjustable back-lighting) many people will end up doing more. What effect that has on your eyes is unknown to me but it certainly feels more comfortable than smaller screens I've tried.
I can't really show you the quality of the screen on a video but you might get an idea of how you might use this device to read e-book content in the video I've prepared for you below. You'll see FbreaderJ with a mobipocket-formatted e-book and Aldiko and an epub-formatted book with online download. One thing missing is commercial content. It is possible to convert encrypted and even DRM-protected content but I'd like to be able to link directly into books from commercial stores like Amazon and Mobipocket without all that hassle.
Don't forget to watch in full-screen and hit the 'HQ' button for the higher quality version.
I've shown you Social Messaging, HD video playback and now Ebook reading on the Archos 5 IT but there are at least two other usage scenarios that I want to show you. Next week i'll be highlighting the Web browsing experience and the navigation experience and that will probably round-up the Archos 5 IT coverage for a while.
If you have experience with dedicated e-book readers, let us know how you feel about this LCD reading experience. How would you feel if the Amazon Kindle software was ported to the Archos Tablet?
P.S. Anyone know if there are commercial audiobook apps for Android? An Audible app would be awesome!