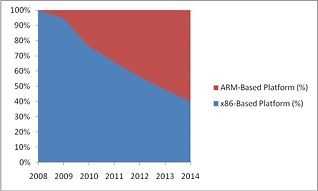 You know I love a good Intel vs ARM fight and what's going on in the mobile device market right now is nothing short of volcanic. ARM partners were all over CES and Intel demonstrated the first ever X86 smartphone and tablet on their Moorestown platform. Both companies know that a specialised platform is needed and both companies are enabling it. Who will win?
If you define 'winning' as 'biggest market share' then take a look at what ABI have to say. They think that ARM will overtake Intel in the 'Ultra Mobile Devices' space in 2013.
What does that mean?
ABI define a UMD as:
'netbooks, MIDs, smartbooks and UMPCs' although we had further clarification on the definition from Jeff Orr of ABI when we reported about 385 Million UMDs in 2014. Jeff Orr had this to say:
The 385m units in 2014 consists of Netbooks, MIDs, UMPCs and Mobile CE devices. Of those, about 158m are Netbooks. The Mobile CE devices include: mobile gaming consoles, PMPs, PNDs, digital cameras, digital camcorders, and eBook readers — all with mobile broadband connections.
So let's get this right. Around 200 million mobile-broadband enabled devices in 2014 will have ARM inside. Around 80 million will be 3G 'netbooks.'?
The numbers seem high but we're talking about global markets and a wide range of devices. I have no doubt that 3G will penetrate the PND, PMP, Ebook, Mobile gaming and digital camera market. That's huge!
One cross-reference is possible with Intel figures. They (and IDG) forecast 45 million netbook sales in 2012. If ABI and Intel are correct, ARM partners have a lot to gain in 2014!
Iphone data usage 'a distraction.
Jeff comments in the press release:
There is a further important implication of this trend. Much is made in the media of certain mobile operators' difficulties in providing sufficient network capacity to handle the growing demand for data. Users of devices such as the iPhone are often cited as the greatest source of that demand. Orr disagrees. "In fact, that's a distraction, inch he says. "In general, laptops and netbooks with embedded or attached modems contribute a significantly greater amount of traffic to 3G networks than smartphones do. inch
On a global basis, that's probably true.
Other thoughts from my side include the possible success of the Intel Moorestown and Medfield (and beyond) platforms. This is a real unknown at the moment.