It looks pretty much like everyone expected. 10 inch, thin, iPhone OS (based.)
Update: Specs now in database.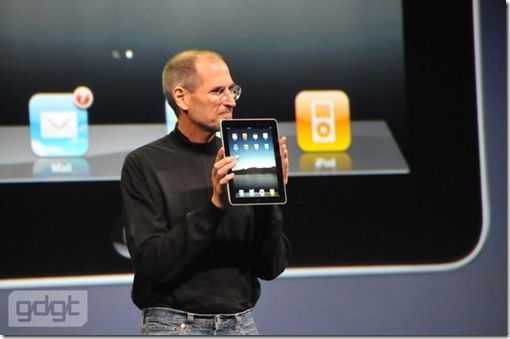 Image from gdgt.com
Spec-guessing based on the sizing. Update: Some confirmed. Update 2: All specs now in the database along with image and article links.
9.7″ 'IPS' technology screen, multitouch. (confirmed)

1024×600

1024×768

12mm thick (confirmed 0.5 inch, 13mm)

10wh battery

25wh battery.

3hrs online battery life

('up to 10 hours' confirmed)

400gm

(corrected: 1.5lb 670gm)
Full specs, gallery and links in the database.
Check out the 8 minute presentation video.
Mentioned in the event:
1Ghz Apple A4 CPU (Could be PA-Semi or ARM-based or both)
16, 32, 64GB storage.
Bluetooth
802.11n
Accelerometer
Docking port
HD YouTube (720p we guess)
New OS designed around similar feature set to iPod Touch. (Photo's, YouTube, iTunes
App store.
Apps run pixel for pixel center screen or pixel-doubled (from iPhone app store.)
iBooks store.
Info from others.
No multitasking
No flash.
Pricing.
16GB, Wifi : $499
32GB Wifi:  $599
64GB wifi:  $699
Add 3G (unlocked) for $130
Availability: 2 Months.
Docking station: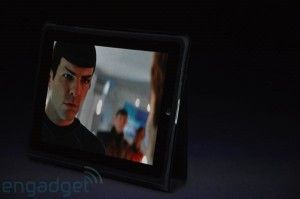 Via Engadget
Not mentioned: Dimensions, cam details. Update: Dimensions now in the database. No cam!