Cool tech and a very uncool Design.
I am definitely not a fan of this device. Why why why would anyone want to use a huge, heavy two-screen device? Sub-optimal for reading. Sub-optimal for writing. Sub-optimal for battery life. Sub-optimal for costs. What do you think?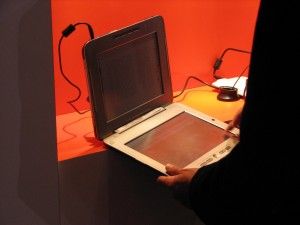 A Viliv S10 with a Pixel-Qi screen would be a far far better solution. One screen. One backlight. Dual-mode. Real keyboard. Productive operating system. However, weight needs to be cut down drastically from the 1.2KG of the S10 which is why converged smartbooks/readers will probably end up as dockable single-screen tablet-only style devices.