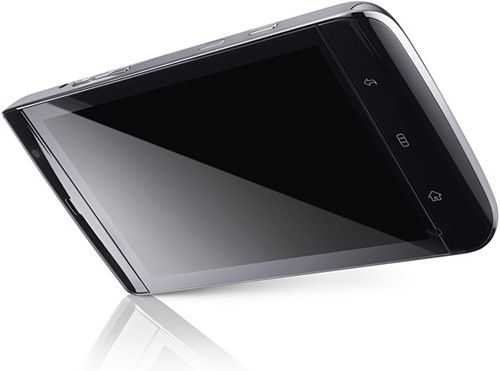 The device which was known as the Dell Streak for quite some time was officially unveiled during CES 2010 as the Dell Mini 5. Personally, I think that the name "Dell Streak inch was actually pretty sweet, but if they insist…
We've heard rumblings of a Dell smartphone for a while. They used to have a line of PDA's called Axim, but they have been discontinued since 2007 and never picked up the phone component. Now we've catching glimpses here and there of the Dell Mini 5 which has be popping its head up once and a while since sometime back in October of 2009. At CES, Dell said that the device is a MID first and a phone second. The first major hands-on with the device came in the form of a video from Vietnamese site tinhte.com.
Dell was happy to show the device off at CES 2010, but were pretty reluctant to give much specific information about it. I don't think Dell is trying to keep this thing under wraps, it's likely that they have simply yet to nail down the details themselves. Retail pricing, availability, and carrier affiliation are all unconfirmed at this point.
Here is what we do know:
5 inch 800×480 capacitive screen
Phone functionality with GSM SIM (despite being rather large for a phone)
Accelerometer
MicroSD slot x 2
GPS
Android 1.6 apparently heavily customized by Dell
1GHz Snapdragon CPU
WiFi/BT
5.0MP camera with dual-LED flash, as well as a front facing cam
1530mAh battery
Dock
Will be available in several colors, it's been seen in black, white, pink, and red
Recently Michael Dell gave a very brief demo of the Dell Mini 5 to TechCrunch and stated that it would be out "in a couple of months inch. We've also heard release dates ranging from mid-year or as far out as the holiday season which is quite a while from now.
It seems like we'll have a bit longer to wait until we'll find out when we can get our hands on this sleek MIDphone.
I'm wondering if I'm the only one looking forward to this device? We've already got similar (albeit smaller) devices on the market, like the Nexus One, which has the same screen resolution, same camera resolution, and even the same 1GHz Snapdragon CPU (and it is running the latest version of Android). I couldn't quite tell you why the Dell Mini 5 seems so compelling when compared to some of the devices that are already out there, but it just seems like Dell could do really well with this device if they can nail the right price-point. What do our readers think? Given what we know, would you buy one for, say, $400 with a contract, or $600 unsubsidized?