Design
I hate to say it, but I feel like the N900 has actually taken a step back in terms of design when I think back to the N810. While the N810 was a beautiful and sleek device with varying tones of brushed metal, the N900 is basically a black plastic brick. Don't get me wrong, it feels solid, but it's just sort of a black lump.  There are subtle intricacies here and there, but otherwise the design is a very simple bar shape. One thing that is interesting about this simple design is that it makes you feel like what's on the inside (the software) will make up for the device's otherwise uninteresting simplicity. This would have complimented the software nicely… if the software was impressive but… well I'll save that for the software section. [N810 image source]
Screen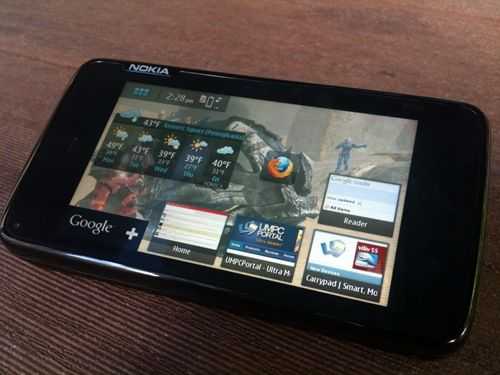 The N900's screen is bright and crisp with the 800×480 resolution. The light sensor embedded in the bezel automatically adjusts the brightness of  the display to the ambient light. The contrast is pretty good for a mobile device, but this thing won't be replacing your home theater.
The touchscreen is resistive, so it has a bit of a different feeling than most of the smartphones being released these days which use capacitive touchscreens. Because the touchscreen on the N900 is resistive, it isn't as consistent with touch input as other devices. At least the touch input is very soft, meaning it can pick up input with fairly light pressure. The screen is pretty susceptible to fingerprints. I find myself frequently wiping the screen off to get the smudges out of the way.
For me, there isn't anything much more annoying than tapping the screen then pulling your finger away, only to realize that the input didn't get through. The N900 has some feedback when you tap the screen, which comes in the form of a slight vibration. This feedback helps to know when you've pressed the screen, but it is still possible to tap a button, feel the vibration, and actually watch the button get highlighted, but nothing will happen until you press it again. This is really annoying and wastes a lot of time when you spend a few seconds thinking that you've pressed the button, when in reality, you haven't. This issue usually occurs when your tap is mistaken as a drag.
Another bothersome problem is horizontal tearing. This is when the screen can't keep the image aligned during scrolling. The end result is that things look exceedingly choppy when you try to scroll. I notice this particularly when scrolling left to right through the desktops. Not a device breaking issue, but I noted the same problem back on the N810. It really just reduces the visual appeal to what would otherwise be a smooth scroll.