Software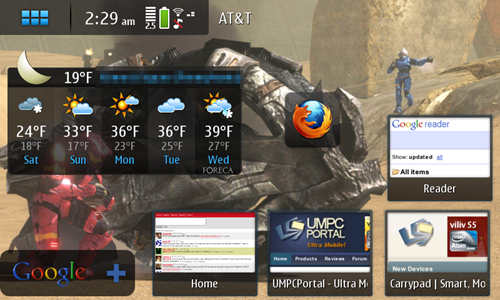 If I had to use one word to describe the issues with the N900, it would be: inconsistency. The word literally defines the software. There are some strong points to Maemo 5, but there are a lot of annoying issues that I would love to see cleared up, that I think would make this device much better. Unfortunately some of these issues are things that are fundamental to the interface, so fixing them is not as easy as making a few tweaks. Just to familiarize people who haven't seen it before, here is a quick demo of the N900's interface.
[youtube]IxYViN1UEuU[/youtube]
YouTube may have cut it off at the end – the last thing I said was "I'm really looking forward to Maemo… becoming more mature. inch Also, a correction in the video: you can set up to four desktops, not five.
For the first few hours of using the N900, I found the interface to be pretty confusing. It isn't as straight forward or as intuitive as it could be, but I've gotten fairly used to it after using it for a while. While I'd describe the interfaces of most of the major smartphone OSs out there as linear, I always seem to come up with the word "cyclical inch when talking about the N900's interface. There is just something much different about it. One doesn't just open an app then jump back to the home screen when they are done. There are several steps in between, and different directions that you can go at each step along the way. Things get confusing sometimes about what is going to take you where.
Multitasking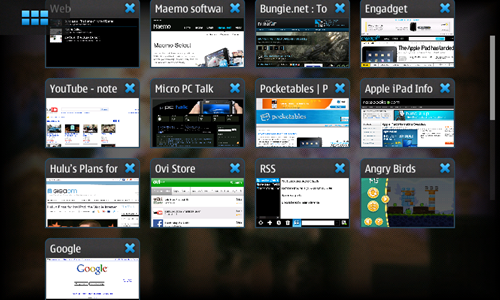 And while launching apps and flowing between different parts of the interface might not be so efficient, the N900 seems to do a pretty damn good job of multitasking. Just for the fun of it, I launched a bunch of websites using the built in browser. Each site runs as it's own instance of the web browser (or at least that's how it is visualized on the screen) and it wasn't until I had so many concurrently running applications on the screen, that I had to scroll through them, that the N900 starting being pretty sluggish. I had 12 sites open at once and was still interacting with the device reasonably well. This impressed me quite a bit.
Media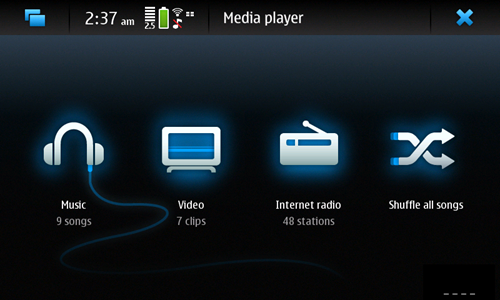 I attempted to watch some HD video in a few different formats, but was unable to get any of them to play back, each was met with "unsupported video inch error, despite being a format that the N900 should be able to play. The N900 doesn't really have the horsepower to do anything HD related. Regular video playback worked just fine, but there are no sizing options for the content. If you are watching a 4:3 video, you cannot stretch it to fill the screen. What you see is what you get.
Despite having 32GB of internal storage, I just can't see anyone navigating their way around a large music library with the default music player, it is too basic. I didn't have a chance to check out Canola in on Canola, but I recall it being a well made media player on the N810, and may be running on the N900 at this point.
The included headphones are in-ear and come with three sizes of earpieces. They actually sound very good, and manage to offer an impressive amount of bass for such tiny headphones. Definitely an audio upgrade if you are used to iPhone earbuds. They also do a good job of blocking noise due to their in-ear design. Be sure to test the different sizes of ear pieces. Initially they kept falling out of my ears and it was very annoying, but I found that one of the other ear pieces fit much better and fixed this problem for the most part. They start to hurt after wearing them for an extended period of time.
There is a radio tuner in the N900 which you can only use with the included headphones plugged in — they function like an antenna for the tuner. Performance is about what you'd expect from FM radio.
The N900 can also output TV to a video through included composite cables. I can't quite think of any obvious practical reason to do this as the output video is only at a resolution of 640×480. I suppose if you wanted to pull up a photo slideshow in low resolution on your TV… but anyway, it's there if you need/want it.