This makes complete sense. Google provide the application channel and Amazon provide the content channel for the Dell Mini 5. [ Information]  This will set it apart from the rest of the bunch so Archos are going to have to think carefully about where they go next. A raw Archos tablet with no apps and no content channel is going to look naked next to the Dell Mini 5. As will all the other raw Android builds we've seen so far.
The information comes from Engadget who got hold of a promotional flyer for the Dell Mini 5 that reveals the partnership.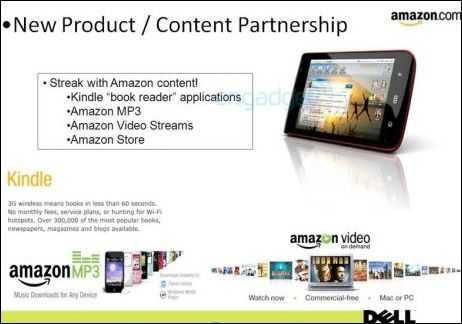 Dell probably have an exclusive on this based on the hardware form factor and video capabilities but I'm sure it won't be long before you'll find the .apk floating around. Maybe even in the Google Marketplace.
A second flyer reveals a colorful range of finishes which points towards a solid consumer focus. Let's hope the prices are pointed that way too.
Source: Engadget
More Dell Mini 5 information and links in the database.