We told you a little while back that the Joojoo got delayed a month due to an issue with the touchscreen. The Joojoo [product page] is expected to be released to pre-order customers on March 25th.
Interface/Video Playback
This convenient delay appears to have given Fusion Garage time to do a pretty major graphical overhaul. They've changed the odd, monochrome looking, single-color background to something a little more vibrant, and added a dash of color to the shortcut icons as well. I have to say that I like this move. People seemed confused about the Joojoo's screen early on, simply due to the original interface design. It appeared as though the screen wouldn't be able to display more than a few simple colors. Of course we know that isn't the case, but the original design may have led someone, unfamiliar to the device, to that conclusion. See before and after shots of the home screen below: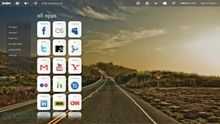 There are some additional interface enhancements, such as a new, smaller, keyboard that can pop up over content for single handed use. Fusion Garage has also added local video playback support for the following formats: AVI, MPEG-4, MOV, WMV and WMA, FLV (Flash Video), VOB, OGG, OGM and OGV, MKV, DiVX and XViD. Read more about the interface changes (and see pictures as well) over at Engadget.
Hardware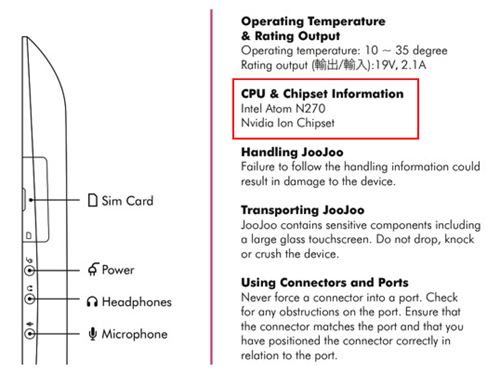 As the Joojoo makes its way through the FCC (hat tip to Engadget for spotting it), we get to see the hardware teardown as well as the manual. Revealed in the manual is the fact that the Joojoo is running the Atom N270 CPU and using Nvidia ION (as we theorized in January), which explains why it is able to handle HD video playback, especially flash HD. It seems odd that Fusion Garage didn't particularly state that the Joojoo uses Nvidia ION as a selling point.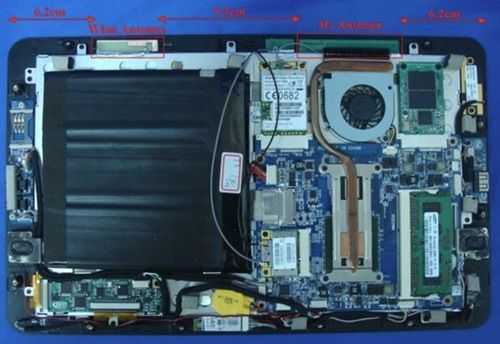 In the hardware teardown we can see that the unit is 3G equipped, though it is unclear whether or not pre-order models will ship with 3G. Officially, the Joojoo is a WiFi only device, though the CEO of Fusion Garage has said that 3G was on the way in 2010.
Fusion Garage also saw fit to change the color of the device itself. Instead of black, the unit will be shipping as a champagne color.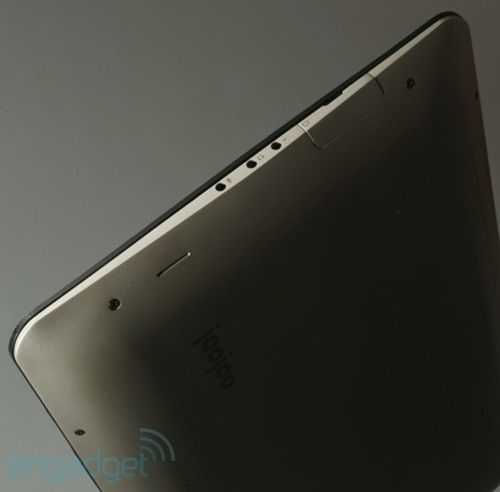 It'll be interesting to see how the iPad and the Joojoo compete once they finally hit the market. Will the iPad's, refined — but more limited – web/app experience win over consumers? Or will the Joojoo's custom interface, with access to the full web, be what the masses clamor for? Only time will tell.