Over the last few weeks my interest in Symbian has increased dramatically. Free Ovi maps, improved Ovi store, Buzz on Google maps, Gravity and other programs have me struggling to decide whether a move to Android is the best for me. Today, another client app has hit the floor and once again, I'm impressed by the quality.
Skype for Symbian was launched today and includes Voice, IM and SMS features in a tidy and good quality application. I've installed the app on my N82 and recorded the process from start to Skype call test. The video is below. (Recorded live from our MeetMobility live stream)
Ovi worked well to find and install the app. Startup and running the app was painless and voice calls and IM work well. As I said, I'm impressed.
One of the things that immediately raised a flag in my mind though was power utilisation. Skype uses a complex P2P network protocol (I studied it once it's very complex protocol) and on the desktop Skype application you'll see continuous connects and disconnects from many peers in the network. This sort of network activity is a killer for smartphones power utilisation so I was interested to see what effect Skype had on the N82. I used the Nokia Energy Profiler to do some tests and was pleased to note that the application sleeps peacefully. When there's no activity on the application it sits in the background with very little usage of the device. I struggled to measure a 50-100mw difference in power drain. Network utilisation was minimal too. A few KB here and there.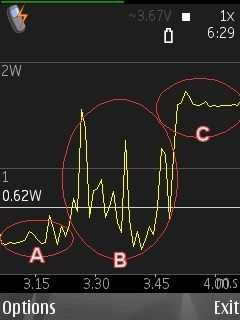 Area A on the graph above shows utlisation before starting Skype. IN area B you see Skype starting up and settling back down to very 'nice' levels. Also, late  in area B is a call set-up. Area C shows the call and you can clearly see 1.6W of utilisation. That's a huge power drain for a smartphone and a 20 min Skype call is likely to take nearly 25% of a standard smartphone battery. A normal GSM voice call, in comparison, took about 0.75W of power.
BUT…That was over Wifi.
Skype over 3G networks.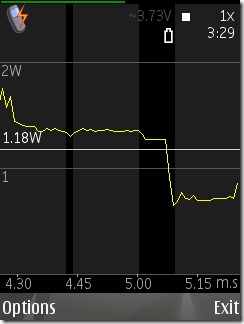 Doing the same over 3G is vastly different. The graph below shows that latter part of the Skype launch, set-up and connectivity process and then idle. No call was made during this 45 second period but you can see the average power drain is huge (2x) compared to that which you'll see over WiFi and there lies the problem.
Skype might be a tidy, well-branded solution for VOIP but it's not the application you really want to be using when mobile. GSM voice calls remain far more efficient and that's the reason why Skype on a phone, is not the end of standard cellular voice calls, despite what Engadget might think.
Skype over 2G networks?
Yes. It works. The data rate for a Skype voice call is just a few KB/s so using GSM data for long-distance calls could be a nice money-efficient solution in most cases where people have a data plan. Standby utilisation is still high though and appears to roam around the 0.5-1W level. You won't want to be using this for incoming calls or IM presence in my opinion.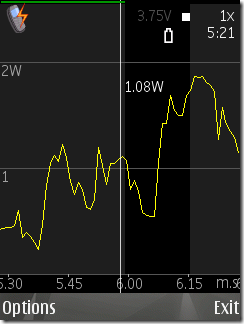 Summary.
You'll find Skype for Symbian a high-quality application but you need to be aware of the power utilisation issues. Over 3G it's almost a non-starter to have this running in the background if you value battery life but there could be some uses when used exclusively over 2G networks. At home, where WiFi and power is readily available, the Skype app turns your smartphone into a very usable Skype phone and IM service and for that, it's highly recommended.
This test again goes to show how there's no such thing as idle anymore. Forget what ARM and Intel tell you about idle power because in most smartphone scenarios where we talk about web and internet, it's irrelevant. Processing the data, handling the comms and then idling and turning the screen and radios to idle is the main challenge and both Intel and ARM partners are in the same boat here. Hurry-up and Get Idle!
Note: Tests done using a Nokia N82 over Vodafone Germany and local Wifi hotspot. Power drain figures will vary based on your phone, your software and the networks you connect to.