Performance.
As usual in our tests, we've performed the CrystalMark test and written notes about general usage performance.
CrystalMark test results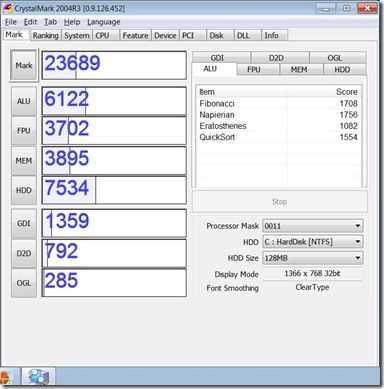 Results are as expected for a 1.6Ghz Intel Atom CPU. The graphic scores are relatively poor and this is a platform-wide problem with the graphics chipset used on these devices. The GMA500 CPU is not known for its graphic strengths.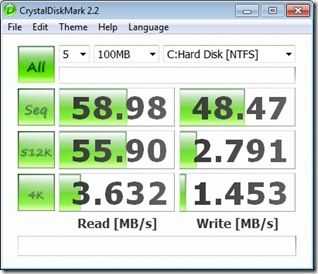 On the disk tests we see good read speeds but we're a little worried about the slow 512KB write speed. The 2.7MB/s figure there is unusually low. We can't say we've noticed it in general use though. Application start and file move times are good.
Windows 7 Performance rating
Processor: 2.2
Memory: 4.3
Graphics: 2.9
Gaming graphics: 2.3
Primary Hard Disk: 5.2
Video performance.
Our video tests cover both online and offline video usage. First lets start with YouTube; a good benchmarking tool!
Using Firefox 3.6 and Flash 10.0 we tested a number of YouTube video formats and we can't say we were really impressed. Windowed 360p (Low quality) YouTube worked although with other flash content playing on the page, sometimes even this was jumpy. Full-screen 360p seems to work smoothly. 460p in full screen is not a smooth experience although seems to work well in windowed mode. It's much that same story as with any netbook. Forget 720p or higher.
Switching to flash 10.1 beta didn't really make much difference which surprised us so we installed the latest development drivers for the GMA500 on Windows 7, rebooted and re-tested.
Old Driver 8.14.10.2019
New Driver 8.14.10.2024
With the new driver we did get a slight improvement in the HQ video playback performance and were also able to watch some 720p videos in full screen although we preferred the HQ videos. They seemed to return a smoother frame-rate. At the 2mbps bitrate required for these videos, you need to make sure you have good connectivity for 720p too.
Full Viliv S10 specifications and more information in the UMPCPortal product database

Offline videos.
One of the features of the GMA500 CPU is that it is capable of decoding WMV, H.264 and other MPEG4 formats in hardware. On Windows XP and Vista this has often been unachievable due to the lack of software codecs but on Windows 7, many of the codecs required are build in and capable of taking advantage of the GMA500. In previous tests with Windows 7 on the GMA500 we've been able to play back H.264 and other formats to 2mbps with no problems but on the Viliv S10, it goes way beyond that.
Before we go any further though we want to point out that the K-Lite Codec pack is pre-installed on our test device. We suspect that Viliv have set this model up to demonstrate the best video performance possible. The K-Lite video pack is widely available so even if retail versions of the S10 don't include this, it's possible to set it up at zero cost.
In our offline video tests we succeeded in playing back:
H.264 720p at 2.48mbps
Divx 4.2Mbps 50% CPU utilisation
WMVHD 720 6.5mbps 80% CPU Utilisation
MPEG2 PAL, 2.5Mbps direct from DVB-T transmission
H.264 YouTube 720p download. 2mbps
We also tried a 1080p file: H.264 1080p 12Mbps average. On a freshly booted system it worked near perfectly with only a small amount of tearing noticeable. We also played this back on a 1440×900 monitor with the same, good result.
In general the S10 should perform well as a video playback device.
Note: There is no digital video output on the S10 although component (to 720p) and VGA (to 1080p) is available.
General performance.
We hesitate to call any netbook running Windows 7 'fast' as the memory, graphics and CPU requirements of the operating system require something more powerful to bring an experience that flows. When we first tested the S10 we found the UI to be very slow and jumpy and it wasn't until we turned of 'Aero' that the system felt like something we could use in typical netbook scenarios. When we turned off all graphics effects though the UI actually felt like something we would enjoy using and that is how we've left the UI configuration.
Application startup times are good. Firefox opens in a very quick 4 seconds. Chrome opens in under a second as far as we can measure.
Windows Media Center (not player) is a tough test for a netbook-style device and unfortunately, although one could say that it works, it's hardly a smooth experience. Turning off animations helped a lot but we didn't go much further with testing the application.
Audio.
The audio device is a Realtek audio chip with a single port. As you plug something into the port the Realtek software pops up a box to ask you what type of device you plugged in. Unfortunately, the port does not support input of any type so what you end up with is a single output port. That means there's no possibility to plug in a mic which restrict the user to a USB headset, USB Mic or the built-in microphone. This could be an issue for some users.
The second problem is the extremely poor built-in loudspeaker. We actually think this might be broken because it's quiet and distorts if you try to turn the volume up. There's no midrange response at all. We'll be checking with Viliv on this one.
When connected to a home HiFi system, the audio jack output is clean of major electronic interference until you turn the amplifier too high. On headphones, the interference is undetectable.
Note: After coming out of standby, we were hearing some significant hum on the output. It turns out that after removing the power cable in our standby test, the hum was there. Re-inserting the power cable removed the hum. The hum is only noticeable when the there is nothing being played through the output and it has a consistent level equivalent to 1 on a scale where 100 is maximum output volume. It won't affect any music listening experiences for most people.
Heat and noise.
The system is free of any moving parts and is, therefore, silent.
Heat build-up is noticable in the area underneath the power button but is only significant when charging. In tablet mode, this heat build-up does spread across the unit and can be significant if using CPU and GPU intensive tasks. In normal use, we didn't have any issues with the heat produced by the Viliv S10.
Stability.
Two notes to put in this section:
Firefox 3.6 crashed twice when playing online videos.
Media player crashed once when coming out of standby.
In general, the S10 has been very stable during two weeks of testing.
Boot-up, standby, hibernate speeds
Boot-up
Return from hibernation 25 seconds.
Return from standby 3 seconds. (+ wifi)
Cold Boot 55 seconds (auto-login. Time until main Windows 7 desktop shows.
Battery life.
On our test device the battery indicator only shows 10% granularity and no indication of remaining battery life.
In our open review we took regular measurement of the battery drain. During our tests we saw figures consistent with 7.5hrs with Wifi-on, 70% screen brightness, general use.
Battery drain when in standby Very low.
Battery drain when off Negligible.
Our Viliv S10 photo gallery available here.