More mobile internet device news leaking out from Dell today shows new information about the Dell Streak. [Info: Currently #1 on Carrypad.] As we've already heard, the launch timescales could be well into the summer but at least there are plans for accessories.
Before we talk about the accessories though, check out the roadmap for the Dell Mini 5 (at Engadget) which shows a Q3 to Q4 launch window. We suspect that it's a wide window for carrier launches with 3G but the indication is that there will be a WiFi only version which should launch earlier based on the fact that no 3G certification will be needed. Our guess is that you'll see that in the Dell shop from day one. Also on the roadmap is an indication that the Dell Mini 5 will get an upgrade to Android 2.1
Secondly, there's a huge range of colors available indicating a young consumer target audience which should also mean aggressive pricing and high sales targets. Archos need to watch their backs carefully here, especially as the accessory kit looks like the box of bits and pieces I've got here with my 605 Wifi and Archos 5.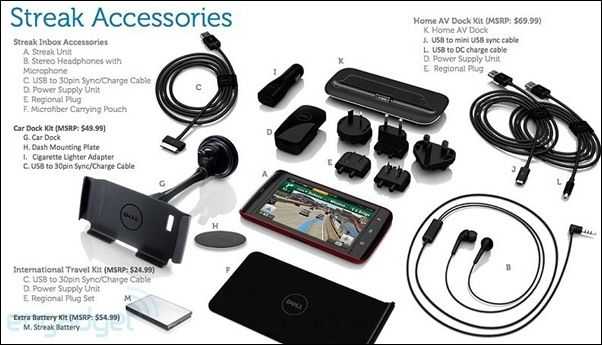 Looking at the accessories I'm quite shocked to see the battery priced at $55. For a 5.5W battery that's expensive although it does make me wonder if 'kit' means 'extended battery.' Somehow I'm doubting it.
Moving on we've got a set of in-ear plugs, a soft pouch and a few 'kits' for the car and the home theatre. This is where Dell steps right on Archos' turf!
Full specs have been also been confirmed and show support for multiple video and audio codecs and a non user-accessible 2GB storage (user storage appears to be only via Micro SDHC card.)  The rest of the specs are in our database.
I think that about covers it but to be sure, check out all the images at Engadget.