Portable, not Mobile
The iPad is slim and sexy and you'd think that it would be a great mobile device, but it is proving to be much better at sofa surfing than mobile maneuverability. The iPad is portable, but not mobile. It is undeniably and awesomely easy to be browsing your favorite site, then hit the hold button and slip the iPad in your bag to take with you. It's quite thin and sturdy and will fit perfectly into any compartment that can house a small notebook, but it isn't exactly the best device to pull out while you are on the go.
The size and weight of the iPad really makes it best fit for lap based use. While the iPhone and other MIDs/smartphones of that size can be easily held in one hand, the iPad nearly always requires two. Despite the large bezel for gripping, the iPad is not ideal for being held in one hand, especially if you are lying in bed.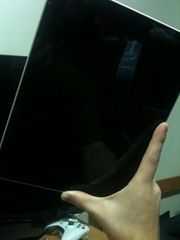 The iPhone has been an awesome morning companion for me. Checking mail, social networks, feeds, etc. in the morning couldn't be any easier. Just grab the phone and lie back with one hand holding the phone and one navigating. I thought that the iPad would function wonderfully in this 'morning companion' scenario, but unfortunately it doesn't. The iPad is so heavy that you really need two hands to hold it if you don't have a lap to set it on. I can lay on my back and hold the iPad above me to read content, but if I want to hit anything on-screen, I have to take one hand away from supporting the weight and try to tap something on the screen. All the while I have to support the iPad's 1.5 pound (680g) weight with a single hand. I've adapted this uncomfortable but necessary "L inch grip which can be used to a certain extent, but as I lay there I'm constantly wishing that the thing was much lighter. After a short time holding the iPad above you with the aforementioned L-grip, it becomes uncomfortable. In fact, I've scarcely been able to find a comfortable position for using the iPad in bed. Most recently I've opted to lean over and use it while it rests on the bed-side table — myself on my side and propped up by an elbow.
I don't know that even Apple knew exactly where or how the iPad would be used, but it's starting to look like a really awesome sofa surfing device; a digital coffee-table book, if you will. I think that we'll see Apple start to refine their marketing and push it in a direction that's in line with the ways that the majority of early adopters find to fit the iPad into their daily routines.