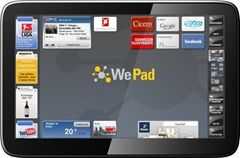 Sascha Pallenberg, MeetMobility podcaster and editor-in-chief at Netbooknews attended a recent WePad live demo and has posted his videos. They're in German but I've been through them and pulled out some of the important points here. (Luckily I also speak German.)
The most important take-away is that this is not an Android-based Linux build as first thought. It's a heavily modified Ubuntu distro with overlay software. The Android aspect is likely to coming from Canonicals Dalvik runtime which will provide some Android application support but don't expect the Google Marketplace or Google Apps such as Maps, Mail or Sky to be running on this.
Below you can find the notes I made as I went through the video. Some of the notes are my own thoughts and conclusions and not information taken direct from the video.
More information on the WePad is available in our WePad information page.
Video Part 1 Notes:
Demonstration highlights landscape format usage model and compares with iPad.
Widescreen allows thumb navigation panels on left and right but reduces application area.
Flash demo. This is a full Linux build so flash is supported. It is not clear is 10.1-style GPU acceleration is going to be available.
Note: On-screen finger selection (browser) is still difficult. That's an issue with hi-res screens unless you zoom on the browser (thus negating the 'increase' in screen real estate.
Constant references to the iPad. In my opinion, a dangerous thing to do because this will not be anything like the iPad in terms of UI experience.
Multitouch must be built into apps. That's a problem because WePad have no control over apps like Open Office or Firefox.
Homescreen apps can be written to the WePad SDK.
No hint of Android (in fact, references to that fact that active home-screen elements would not be possible with Android.) In part 2, there is a question relating to Android apps. It appears that the Android application capability is not ready for demonstration yet.
Homescreen editing demo (direct link to 9m6s in video)
The experience is heavily dependent on homescreen widgets. (Without that, its going to be a simple launch-pad into Linux applications.)
Translation to other languages could take time.
Active homescreen could seriously affect battery life.
Device is for landscape, two hands but keyboard can not be used with thumbs as device is too wide.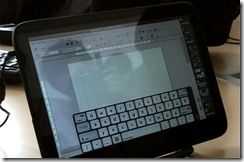 Appstore? Will WePad run their own repository?
Branded versions: Locked homescreen, limited repository? (as we saw with many Moblin 1.0 devices)
Notifications system?
Demo of device in use as modular PC using wireless mouse and keyboard. (Direct link to video section)
Video Part 2 Notes.
Demo of media player. Nice integration of USB stick and content access through touchscreen element.
Ubuntu logo spotted at 4:03 in part 2. As I mentioned before, they are probably using the Canonical (Dalvik) runtime for the Android applications support. (Direct link)
WePad is able to earn a percentage of sales made through homescreen applications. (Questions about cost subsidy arise here.)
Design is now final.
Video Part 2
Overall impression. Clear focus on UI, as it should be, but a lot of focus on partner applications for sales and advertising. WePad are trying to lever homescreen applications as website entry points and the websites themselves as purchasing gateways (for purchasing goods) which means that account and payment control will be splintered across the providers as it is with normal online shopping experiences.
Questions about communications applications still remain. Skype, Twitter, Email. Will WePad write their own apps, expect developers to write apps or will they simply use freely available Linux applications? Given that this is Ubuntu, access to apps will be easy but how will they integrate apps with menus and on-screen buttons? Note that there's no automatic application-to-GPS connectivity in Ubuntu Linux (as far as i'm aware) and applications are rarely written with location in mind. Google Maps will be a relatively 'static' desktop-style experience for example. (Some location awareness can be achieved through Google's location service using Wifi and Cell info.)
Questions about tablet usability still remain. The device was propped up on a stand for the whole demo. 800gm is a two-handed weight and the central homescreen and keyboard is going to require one-handed use, table-top or the typical knees-to-chest prop position.
In summary, this is very much like what was seen in Moblin 2.0 in terms of re-building Linux to enable a rich homescreen experience but in my opinion, it lacks some key features of Moblin/MeeGo such as messaging layer, sensor layer and applications store.
Keep an eye on netbooknews.com and netbooknews.de for further analysis and join us on the next MeetMobility podcast where Sascha will go into detail about his WePad experience.
Source: Netbooknews (German)