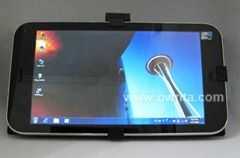 As the rumours surrounding the HP Windows 7 tablet continue to swirl and with no official response on the matter, no one is quite sure if the project is dead or not.  For those who like the form factor and who aren't interested in owning an Apple iPad, the Jumper JK01-TT may be of interest.
It's a 10.1 inch tablet running Windows 7 and sports a 1024 x 600 multitouch display. The JK01-TT is powered by a 1.66GHz Intel Atom N450, 2GB of RAM and a 250GB hard drive. It comes loaded with WiFi, 3G, USB, 4 in 1 card reader, 2MP webcam, accelerometer with autorotation and a 3000mAh battery.
I would estimate a possible 2 – 3 hours run time if you're lucky but given its 1.2kg weight and slim dimensions (11.4 inch x 5.9 inch x 0.8 inch) it does make for a small, full-featured tablet.
As an added bonus the Jumper JK01-TT ships with a docking station, wireless mouse / keyboard and is available at Ownta costing €556.92
[image courtesy of Ownta via Liliputing]