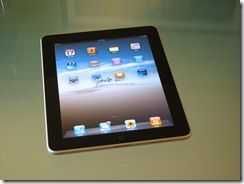 I've always imagined the Apple iPad to be one of the easiest purchases a Dad could make. It looks good (no more ugly laptops on the coffee table,) it can be used for multi-player games (something to bring the family together) and it can be used around the house (no more being stuck in the broom-cupboard with the family desktop.) Naturally the price can also be justified (have you seen how expensive those new coffee machines are and a BluRay player, PS3 or Wii isn't 'that much' cheaper. Even smartphones are more expensive over 2 years.) With its relatively large-format text and screen, simple user interface, loungey two-handed usage and access to music, books and films from the device itself,  it's difficult to imagine the device selling to anywhere else other than the living room. Apart from the tech bloggers, apple fans, the rich, early adopters, journalists, developers,  and businesspeople who also had a reason to get in early of course.
Thanks to TouchMeMobile who kindly did a short-term swap on this iPad for a Viliv S10 we've been testing at UMPCPortal. You'll find the Viliv S10 articles here. (German)
I've had the iPad for a little over a week and have been experimenting. I compared it with an Archos 5 to see where it overlaps and testing different usage scenarios. In between, the iPad has been where it is likely to live for most people, in the living space near the TV and remote controls and among what I regard to be an average European family.
Firstly, I should say that the iPad was exactly what I expected. It looks great but is relatively heavy (especially for a tablet that doesn't have a stand.) It is built with stylish materials that aren't ideal for hand-holding and it has a user interface that puts all others to shame. The app-store is exciting and the battery seems to last forever.  It's clear that the touch user interface provides the main excitement though and this is where the 'magic' is. I liken the feeling to using an Air-Hockey game. Fluid, physical and somehow detached from the real world. It really connects the device to the user in a natural way.
The iPad was used around my home for about a week and initially, everyone was keen to use it. The game Godfinger featured heavily as did web browsing which was as fast as almost any 700gm device I've tested. It was used for a small amount of 'twittering' and email too but in the end, that usage model, and anything else that involved my private data and accounts didn't work in the family scenario. It turns out that multiple users aren't really well catered-for on the iPad which really goes against the grain of how I see the iPad being used.
After a few days, in a family that has a number of netbooks lying around, the iPad usage faded away. My daughter, 9, uses the netbook once or twice a week to collect and print images of her favorite Disney stars and to browse videos in Clipfish or catch up on 'Popstars' via the TV station's website – all flash-driven videos.  Clearly, printing and flash websites don't work on an iPad. We're not big electronic gamers (the Xbox is only used as a media player and DVD player and we've never had to tell our daughter to 'leave that damn Nintendo alone for a minute' ) and we don't read e-books for hours on end (magazines, TV and books still feature heavily in our living room.) Short messaging and emails are generally done on phones (SMS still rules in Europe and there's that personalisation issue to think about again) so I'm left wondering what the iPad would be used for. After a game of Jenga yesterday (try simulating that on the iPad!) while digital radio played in the background via our basic cable subscription, I realised that this family, despite its tech-journalist father, is just not aligned the way Steve Jobs would like and I'm imagining that the same scenario will occur right across Europe when the iPad launches leaving just the aforementioned early adopters buying.
I see where the 'magic' is coming from and I see that the iPad is a beautiful purchase. It's an exciting experimental platform and connected entertainment device; I'd love to have one lying on the sofa or coffee table. Many will accuse me of not seeing the bigger picture too but, as so many people have written before, the iPad doesn't have a unique usage case TODAY that can be used to lever a purchase TODAY. I can't justify it.
You might think that a web site called 'Carrypad' is heavily pro-tablet but although we love choice, lightweight computing and sofa-surfing, we're acutely aware of the issues of size, weight and software keyboards. Many tablets overcome the issues by being flexible in terms of connectivity or by being extremely mobile but the iPad doesn't even do that so at 700gm / 1.5lb, I have to say that this time, Mr Jobs, you went too far in your quest for form over function and missed the mark for a general use media, web and entertainment tablet. You might have created enough marketing magic for the U.S. market and a number of 'advanced' European markets (UK, NL, Italy perhaps) but in the very weak Euro/Pound zone right now, where value and privacy are often concerns and where prices are very high compared to netbooks and where marketing doesn't work as it does in the U.S, penetration isn't going to be high.
Drop the size to 7 inch and the weight to sub 400gm, open up the connectivity so that we don't have to treat the iPad as a PC accessory and lower the price by 200 Euro, add a docking station and I think a lot more people would be able to justify it but as it is, my EU sales predictions stay as they are. Touching the iPad didn't really change my mind.
Notes made in first 5 minutes:
Beautiful
Pre-set up not needed (as this is a loan device that has been pre-configured)
Wife's first comment 'too big' followed shortly after switch-on by 'is that for us? I want one.'
First touch reminds me of a pinball machine.
Web, fast!
Email is nice
Weight too heavy
Slippery when dry
Initial pics taken on camera SD card placed in netbook
Other thoughts.
Enjoyed browsing. At last sub 10-second browsing on an ARM-based device.
User interface a joy.
Materials high quality but not built for use.
Notifications system Well implemented apps need to catch up
Flexibility Poor. Transferring files. Connectivity. Productivity. Hardly the Swiss Army Knife of tablets
Weight poor.
Keyboard very good technically. Few usage scenarios due to weight, lack of stand.
Price Acceptable for a web/gaming device
Most interesting usage scenario highly interactive musical instruments and musical experimentation.
Battery life good
Wife's final comment: Good for eyes, not for the back. (Followed by joke about 'eye-pad')