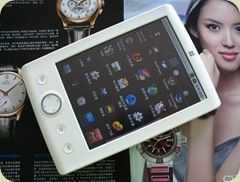 I'm not going to call the SmartDevices SmartQ T7 an Android tablet because I think it comes in just under the bar in terms of being a flexible, fully-specified tablet but despite that, it has some legs.
I missed it in my round-up at UMPCPortal the other day and nearly ignored it again when Eletroworld emailed me about it; I assumed it was the SmartQ R7, the Ubuntu version running on a 600Mhz ARM11 CPU. The only thing that saved it from being just another Chinese tablet was the 3G option. It's very rare to see that on a tablet and at $280, it's a rare price too.
Unfortunately the T7 is still only running the Telechips ARM11-based CPU but this one is the 720Mhz version also found on the Smartbook Surfer which should be enough to drive mobile versions of websites. It's got Android 2.1 and an 800×600 touchscreen with auto rotate. We don't expect any Google Android apps or Market but with some side-loading of apps (see this article) it should be possible to fit this out with enough software to handle any ebook format. With a 600-wide screen we expect Google Reader (in the browser) and NewsRob to look great too.
On top of the basic Android build it looks like Smartdevices have used some of their video playback skills to enable 1080p and support of a wide range of formats. It's got the correct Android buttons on the frame and a 17Wh battery in a weight of 430gm, it could make a good value holidaying or e-reading product.
Eletroworld have offered us a loaner and we're expecting to get this on the operating table, live, as soon as it turns up. Expected around 20th August.
Latest specifications and links for the T7 are in our database. The price for the non-3G version is $230 and also note that the 3G version doesn't include the BT module found on the base model.