Just one week before Intel's IDF will detail more about their mobile CPU roadmap for 2011/2012, ARM have announced some details about their own 2012 high power mobile silicon. Cortex A15 (Codename: Eagle)
Based on a 28/32 nm process (ref: news about 28nm process here) this quad-core design will clock up to 2.5Ghz. That's 4x cores and 2x clock compared to todays 'best of.' ARM say it will provide 5x computing performance. You'll see it run up to 1.5Ghz in smartphones but I suspect there are some other 'smart' opportunities in the netbook space here.
'Eagle' Cortex A15 News release.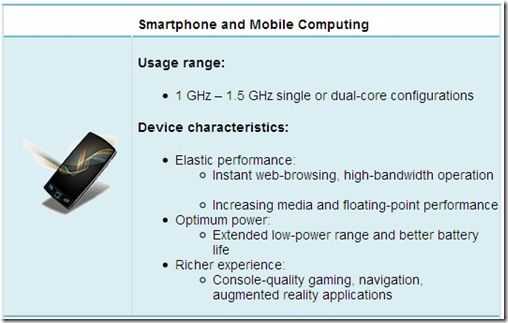 With the dual-core A9 already reaching up into Intel's performance space, solutions based on this Cortex A15 will put it directly head-to-head with Intel's 32nm Medfield platform.
Expect similar power and performance profiles for A15 and Medfield's Atom core which means the choice of CPU wont be that important for customers any more. The choice lies with the software, designer and, increasingly, the marketing and customer-relations teams.
Intel and ARM have 2 years to get a suite of operating systems ready for these products that range from real-time, through mobile to desktop productivity. I see ARM having a lot of potential with Android but with a lack of productivity applications and a potential patent problem, Intel are in a good position with MeeGo. Having said that, MeeGo will run on ARM CPUs to so in my eyes, what we have here is simply a great range of platforms and operating systems lined up for an amazingly mobile 2012.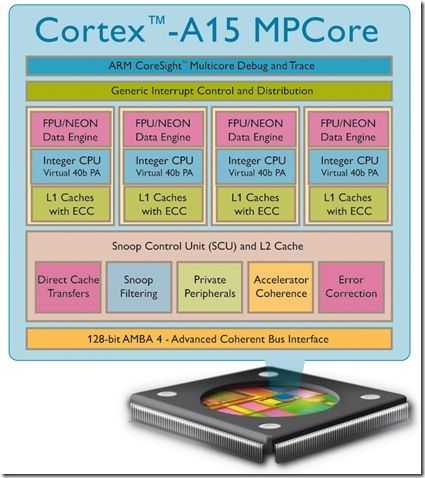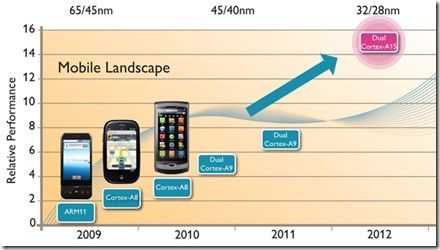 More detailed information available here.
Via Slashgear
Expect more details at ARM's Techcon event in November.