RIM are showing a new product, the Blackberry 'Playbook' at DevCon10 in San Francisco as I write.  I'm adding specifications as they come in.
Specifications (updating) https://www.umpcportal.com/products/blackberry/playbook (now with official specifications)
Press Release is here.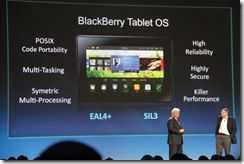 First image via http://twitter.com/hardwarezone
Slashgear have some more images from the event here.
1Ghz CPU (Dual core, must be Cortex A9 – possibly Tegra2?)
7 inch Screen 1024×600, Multitouch Capacative
Micro HDMI-out, Micro USB
1BG RAM
9.7 mm thin
16GB flash storage
More (official) specs now in the product page.
This is being pitched as a stable, secure platform with 'uncompromised browsing.'  Flash 10.1 is included.
Stay tuned here or on the product page for updates.
Blackberryplaybook.com is redirecting to Blackberry America.
Initial thoughts:
It will be offered as a partner device for blackberry owners for a very cheap price, a 'value-add' upgrade. Web support is being promoted heavily with Flash and HTML5 support and a "high-fidelity web experience". Could the browser be better than the iPad and Android devices? At 400gm with a Cortex A9 ARMV7 Core (Thx TheLukeTailor in comments), the battery life probably won't beat the iPad. I estimate something similar to the Galaxy Tab – 4-6hrs online usage with good standby capability. Mobile usage will depend on the tethered phone. Storage is said to be 16GB which is a good starting point. No word on removable storage capability yet.
Application ecosystem needs to be analysed.
That's it for this post. More soon so stay tuned for analysis.