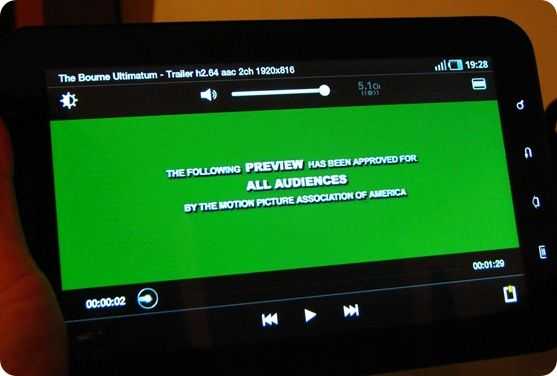 A full video demonstration of video capabilities is embedded further down in this article. Thanks to Techdepot for supporting us with the Galaxy Tab
I admit was a little suspicious of the claims that the Galaxy Tab could play back 'Full HD' content but it's now confirmed. I've managed to play back two 1080p H.264 format files. To be honest, 720p is the perfect fit for a device like this, especially as it has no digital video outputs (unconfirmed but 'settings' offers only PAL and NTSC as 'TV-OUT' options for the docking connector) but if you're the sort of person that carries around films in 1080p format you'll be pleased to hear this.
There are caveats though. The first is that I've only managed to play back H.264 at 1080p levels. The second is that the Galaxy Tab doesn't support multi-channel audio. I.e. it can't mix down to two channels. Finally, I can't seem to get an MPEG-2 file to play. Those with pure DVD copies (vobs) might want to take note and do some more research on that.
In terms of video file format support I've had success with AVI and MKV containers and WMV, H.264, Xvid and Divx encoded video files. AAC and MP3 is supported (2-channel only.) In terms of bitrates, i've tested H/264 up to an average 13Mbps which is a very heavy load. The Tab handled it well with no visible dropped frames and no tearing. The screen quality is just amazing!
Imagine this: When sitting on my sofa and holding the Tab about half arms-length from my eyes, it's the equivalent of a 100cm diagonal screen where my TV is on the other side of the room!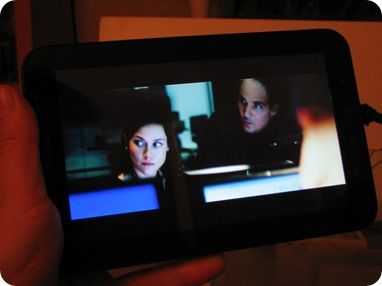 The player software is good and you can adjust screen brightness, (brightness, contrast and saturation is also available in system settings) to suit your preferences. There's easy access to video size ratio changes, favourites and volume. Fast forwarding and skipping is very quick and there's a great 'Mosaic' preview feature that allows you to preview various parts of a video using snapshots.
The stereo speakers are really good although both are on the base of the device in portrait mode which means that when holding the device in landscape, the speakers are too easy to cover. The supplied headset quality is fine although not super high-quality. Portrait usage doesn't seem to be supported but you can rotate the device through 180 degrees to put the headset port in a better position.
All in all the experience is excellent and rises way above most Android-based video experiences.
Enjoy the video below and yes, I realise I need to invest in an HD camera ;-)