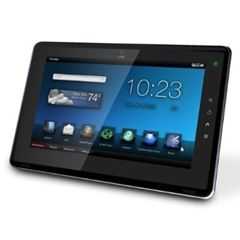 Toshiba have just announced that the Folio 100, the 10 inch Tegra2-based tablet, is now being distributed in Europe. The Tablet uses Android 2.2 and is much the same hardware as the AC100 we've been testing (and hacking) here at Carrypad.
You'll see that Toshiba are pushing their own applications store (Google Market was clearly not authorised for this non-phone tablet) and there's some interesting content. AceTrax is offering the video content which will be an advantage over the Galaxy Tab which doesn't offer any video content in Europe . 7Digital is doing the music (as on the Galaxy Tab) but we don't yet know who's providing the applications and ebooks. The AC100 uses the Camangi Market but we suspect they have switched providers. There's a possibility that they have teamed up with Archos to offer AppLib but we'll try and get that info for you soon.
As for pricing, nothing was announced today but we've spotted it online for 399 Euros (Google search) without 3G. With the Archos 101 starting to hit the shelves at €299, retailers will have to do better than that although we expect some premium for the Tegra 2 platform. USB OTG is included along with an SD Card slot and HDMI-out and there's also a 3G option. Without GPS and the Google Applications though, it has its downsides.
We had some hands on at IFA and hope to bring you some testing with the retail version soon.
Fingers crossed that there's only a few changes needed to get 2.2 out of the door for the AC100. We're expecting an availability within a few weeks.