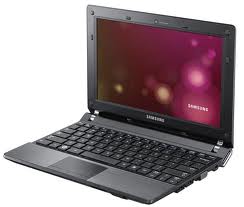 Heads up! If you're interested in a mobile netbook with a touch more oomph! than your average Atom N450 based device you'll want to tune in here over the next few days because the Samsung N350 dual-core Atom netbook is on its way.
The N350 is one I've had my eye on as a possible upgrade to my trusty Gigabyte Touchnote so it will be coming with me to Dublin and the Meego conference next week where it will get a good workout. Before that though, we need to do a live review with it and JKK and I are planning to get busy with it at 2100 CET (Berlin) on Friday. As always with the Friday sessions, bring a bottle of your favorite tipple!
I'll  update here or on twitter @chippy with any changes to the plan.
Update: Session is over. I'll be writing up the results of the testing for Sunday14th – Summary: It's a high quality netbook but we only got 3.5hrs (estimated based on 2hrs of tests) of battery life. A six-cell battery is available for a rather shocking 130 Euros. The total weight with the 6-cell would be about 1200gm.